We've all been there. You're playing your favorite game and suddenly you realize that your microphone is poor quality and it's making everyone sound like they're in a tunnel.
Well, if you don't want to end up stuck with this annoying problem, take a look at our list of the best budget gaming microphones!
What to expect from your cheap gaming microphone purchase?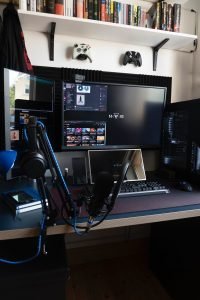 1. For a Gaming Microphone under $100, you can expect low audio quality.
The sound quality is going to be nothing like a high-end microphone, but for voice chat and in-game communication, the audio quality should be okay.
With the right hardware and software support, you could achieve better sound quality than you could get from your built-in microphone.
2. The microphone boom will need to be adjusted to your head in order for you to speak clearly.
The adjustments can vary widely, but usually, it will come with a few different lengths of the microphone cable on the boom.
You may need to purchase additional cables and/or holders for your microphone depending on its placement in your setup.
3. The microphone will be subjected to stress if the boom is too long, so it's important to make sure it is placed at the correct height and angle.
4. For a gaming microphone under $150, you can expect better audio quality for communication purposes. It will be easy to hear what the other person is saying online or in a game.
Why is a Gaming Microphone Important?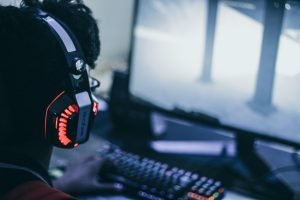 1. When you are online gaming, you interact with your teammates and your enemies quite a lot. You do this with voice communication and it's important to have the best quality microphone that you can afford because if it doesn't sound good, you won't be able to communicate properly with your teammates. Imagine trying to give an ally the location of the enemy by using some sort of 'ehh' sound! This is why gaming microphones are important because they can make you or break your experience when playing online games.
2. Finding a microphone that fits your budget is important because it will allow you to buy more things that are important for gaming, like a good PC gaming chair and quality webcam. You want to have a good gaming experience and not worry about finding the best budget gaming microphone. As you will see in our list, there are quite a few affordable choices that can provide you with the quality sound that you desire.
Types of Cheap Microphones for Gaming
Wired USB
This microphone is very easy to use because it plugs right into your computer and you can start talking. You can plug this directly into your computer or you can use the included USB cable and plug it into a USB hub. You are able to move around easily with this microphone as well because there is no wire connected to it.
Wireless
The wireless microphone is one of the most popular types of gaming microphones because it's great for streaming and chatting. This microphone connects to your phone or computer via radio frequency and you can communicate using either a headset or the built-in mic in your device. This is a wireless gaming microphone, so you won't have any wires messing up your desk.
XLR
XLR mics are usually used by professionals and recording studios. There is no off switch on these mics and they require 2 pieces of cable to connect – one from your computer to the microphone, and one from the microphone to the sound card on your computer. They are very durable and are used in professional studios all over the world.
How to Choose a Budget Microphone for Gaming
1. Sound Quality:
The most important thing when it comes to a microphone for gaming is that it sounds good. The best way to test this is to listen to a few samples of the microphone quality before purchasing one. You can do this by visiting the website for the microphone that you are interested in and listening to some samples. You want to make sure that it doesn't sound too tinny or like there is too much background noise. It should have a smooth sound and not be 'tinny' or 'tin can-y'.
2. Frequency Response:
This is where the frequency response is measured, which indicates how clean the sound coming out of your gaming microphone is. It is measured in hertz. You want to make sure that the frequency you have chosen matches the frequency of your voice. If it's too high or too low, you are going to need to purchase a counterweight for your microphone!
3. Sensitivity:
This is obviously measured in decibels (dB), which indicates how loud the microphone will pick up the sound. The sensitivity of your mic will determine how loud or quiet you can be when talking to others. If it's not sensitive enough, you can't hear anything and the person on the other end will be hard to understand!
4. Features
Desktop and Laptop: This is a microphone that connects directly to your Mac computer and the only thing you need to watch out for is the usb port. If your computer has a low quality usb port, you might have some problems with it working. Luckily, most of these microphones come with a warranty that covers any manufacturing defects or issues.
List of 5 Best Budget Microphones for Gaming
1. HyperX SoloCast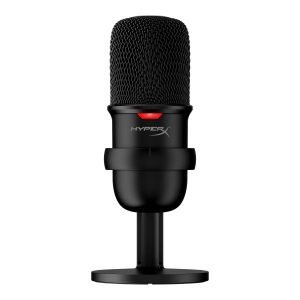 HyperX SoloCast is an affordable gaming microphone with a surprisingly rich set of features. Its frequency response range covers 200Hz- 20kHz, and it has up to 22 dB of gain, which is quite impressive for a microphone in its price range. In terms of stand-out features from others in the same price range, this one has a noise-canceling feature that sets it apart from other budget microphones.
A mixer is offered with this one that allows you to adjust the levels of the recording as well as mute it when necessary. It also comes with a 3.5mm jack, so you can monitor the audio while you're playing. It has a built in microphone stand so you can listen while gaming or recording without having to buy an expensive headset.
2. Razer Seiren Mini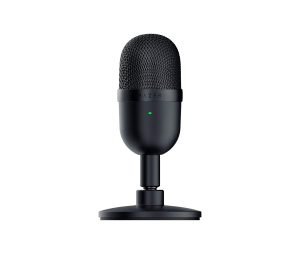 This microphone is intended for gamers and those who use it to stream their gameplay online. It comes with a built in stand so that you can keep the microphone in a comfortable position while you're playing or streaming. The microphone also includes a 3.5 mm jack so that you can monitor what the mic is recording easily. The microphone also has a switching feature that lets you switch between the mic and headphones that are connected to your device. This microphone can pick up audio for up to 500 feet, which is quite impressive for a microphone of this size. Lastly, it comes with an input volume control so you can adjust the volume of the microphone without having to go into the Windows sound settings.
3. Blue Yeti Nano Premium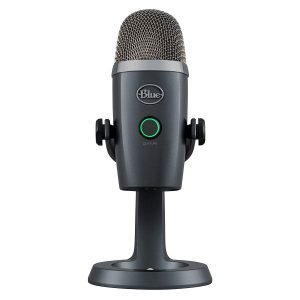 This microphone has a sleek and simple design. It also includes a built in stand that you can use to keep the microphone in a comfortable position while you're streaming or recording. The mic has a frequency response range of 50-16,000Hz, so it has great sound range for voice recordings. It also comes with Sennheiser's trusted gaming audio. The mic is compact and can fit in a computer bag without taking up too much room. It also comes with a built in mute switch so you can mute the microphone while you're recording or streaming.
4. Blue Snowball iCE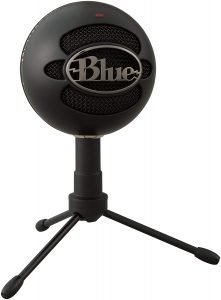 The Blue Snowball iCE Condenser USB Microphone is intended to work as both a gaming microphone and streaming microphone simultaneously. It has a frequency response range of 40-16,000Hz so it can pick up great sounds. It also cuts out background noise well for those gamers who play online games with loud engines.
This microphone also comes with a USB connector, which makes it an ideal microphone for gamers on a budget. The mic is not designed to be used with both the headphone and microphone at once; instead, you can choose when to mute the mic or turn down the volume.
5. JLab Audio Talk Go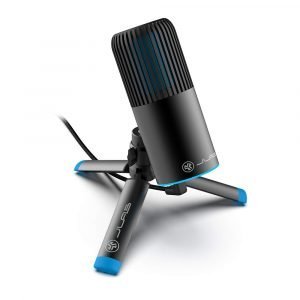 It also comes with a 3.5mm jack so you can use it with other devices as well. The JLab Audio Talk Go USB Microphone is perfect for gamers or streamers who are on a budget and need a quality microphone to use at the same time. The mic has a frequency response range of 50Hz-16,000Hz so it can pick up great sounds. It also cuts out background noise well for those gamers who play online games with loud engines.
6. Rode NT-USB Mini
This microphone is designed to meet the needs of both streamers and gamers. It has a frequency resolution of 20Hz-20,000Hz so that you can pick up great sounds while gaming or streaming. It also includes a stand so that you can adjust the microphone to your needs without much hassle. Finally, it has a zero latency headphone output so that you can monitor the audio while you're playing.
7. Samson Meteor USB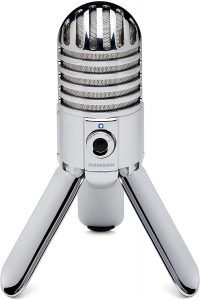 This microphone includes a USB port so you can use it for recording and streaming on any platform without having to get an adapter. The Samson Meteor will help you get better sound quality and clarity when speaking to other online gamers. You can choose between cardioid, omnidirectional, and stereo pickup patterns for different scenarios.
The microphone has a mini jack input, a standard USB jack, and a switch to change settings quickly. It also comes with an external power adapter that plugs into the wall. This is the best gaming microphone you can buy today that costs less than $100.
FAQs
What is the best low-budget microphone?
The AT2020 USB+ comes in with a great sound quality and has an array of different features to consider. It's price is perfect for the gamer who doesn't want to spend too much money on their microphone.
Are cheap microphones good?
Yes, they are good. Many of the cheap microphones in the market may not be as excellent as expensive ones, but they still have a reasonable price and sound quality. Hence, you won't make a fool of yourself when using one for a podcast or game recording. Are there any downsides to cheap microphones?
Do I need a mic for gaming?
There's really no need for a microphone for gaming unless you're going to do something like video editing or podcasting. If you're just playing games and not going to record, there is no reason to have a mic attached to your PC. You can get by with a Bluetooth headset or in-line headset. Also, there are plenty of software that let you record whatever you're hearing through the TV into stereo sound so it can be listened to or mixed with other audio files.
What is the best mic for under $50?
​Blue Snowball iCE (or Blue Snowball/Blue Snowball Studio) are the best USB microphones you can get for under $50. They have excellent sound quality, and according to experts, they are better than more expensive microphones like the Audio-Technica AT2005USB+ or Rode NT-USB.