Public Address systems, or PA systems for short, are obviously very important for making sure that you've heard by a lot of people who would otherwise find it very hard to listen to you.
You can often find them in places like schools or auditoriums where their need is apparent.
You might also find them at parties, musical performances, business conferences, and karaoke.
Normal PA systems, however, can prove to be very difficult to carry around.
Hence we have reviewed some of the top wireless portable PA systems.
Fortunately, there are portable PA systems available in the market, solving the issue of having to carry the system around while also not compromising on the quality of sound produced.
In this article, we list several portable PA systems that also come with their own wireless microphones that are not only budget-friendly but work very well too.
9 Best Portable PA Systems with Wireless Microphone
1. Pyle Bluetooth PSBT65A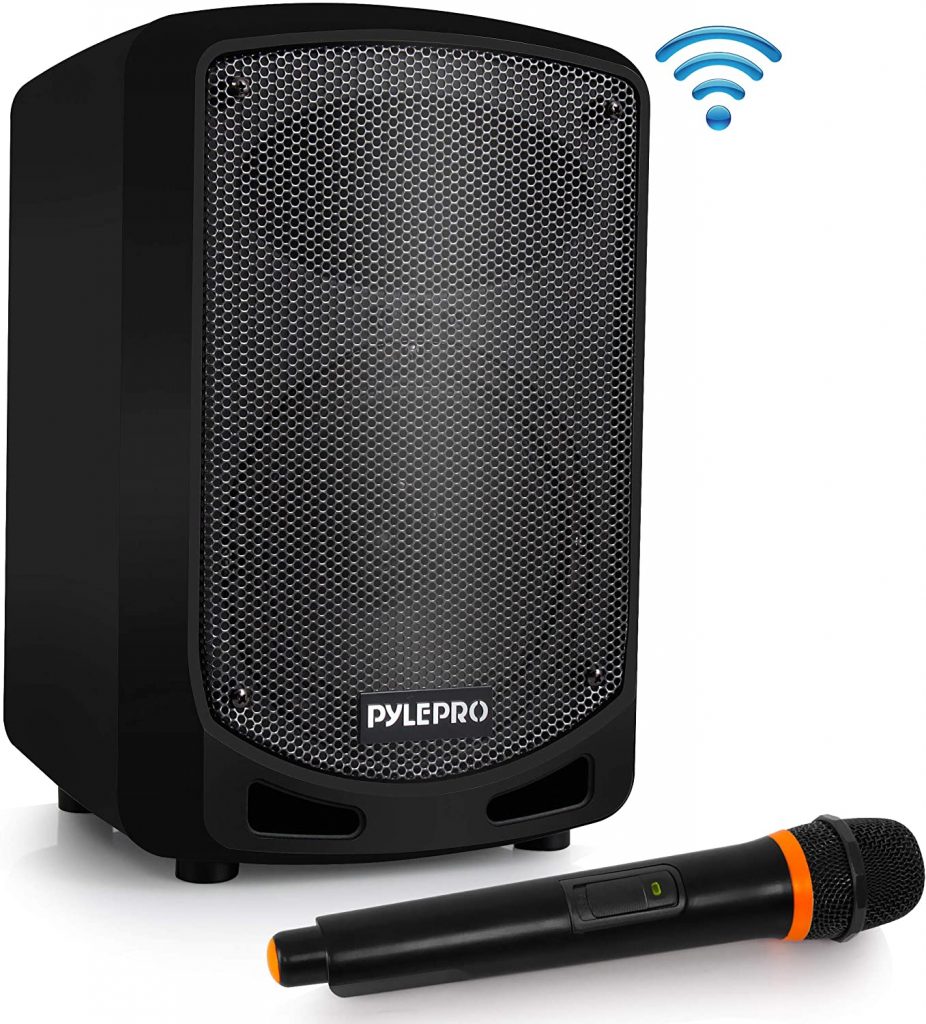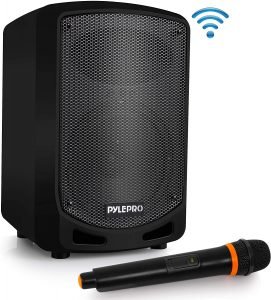 First on our list is the Pyle Bluetooth PSBT65A, a system that has a very small design yet is a lot louder than what you might think. This, along with its wireless mic, are super convenient as well as effective when used for conferences, parties, karaoke, and other small events. Despite its small size, the speaker is able to generate a massive 600 Watts of power.
Along with being able to provide wireless audio streaming, this system has many other advantages. It has a built-in Bluetooth, allowing you to connect to your phone, laptop, or any other Bluetooth-compatible device. It is battery-powered, further adding to its portability, as well as being very lightweight. The system is very easy to set up. The system also has Bass, Treble, and Echo sound effects, and has the added feature of being able to record audio without issues. Overall, this PA system is of excellent quality at a low price.
There are some cons to this system too, however. First of all, while its Bluetooth feature is very useful, it may experience issues, and at times might not work with some devices. The microphone also has a very low range of about only 15 feet. Sound at times might also be distorted. Having a battery life of only 3 hours, the system might not be suitable for long uses at a time.
2. HISONIC HS122BT-HH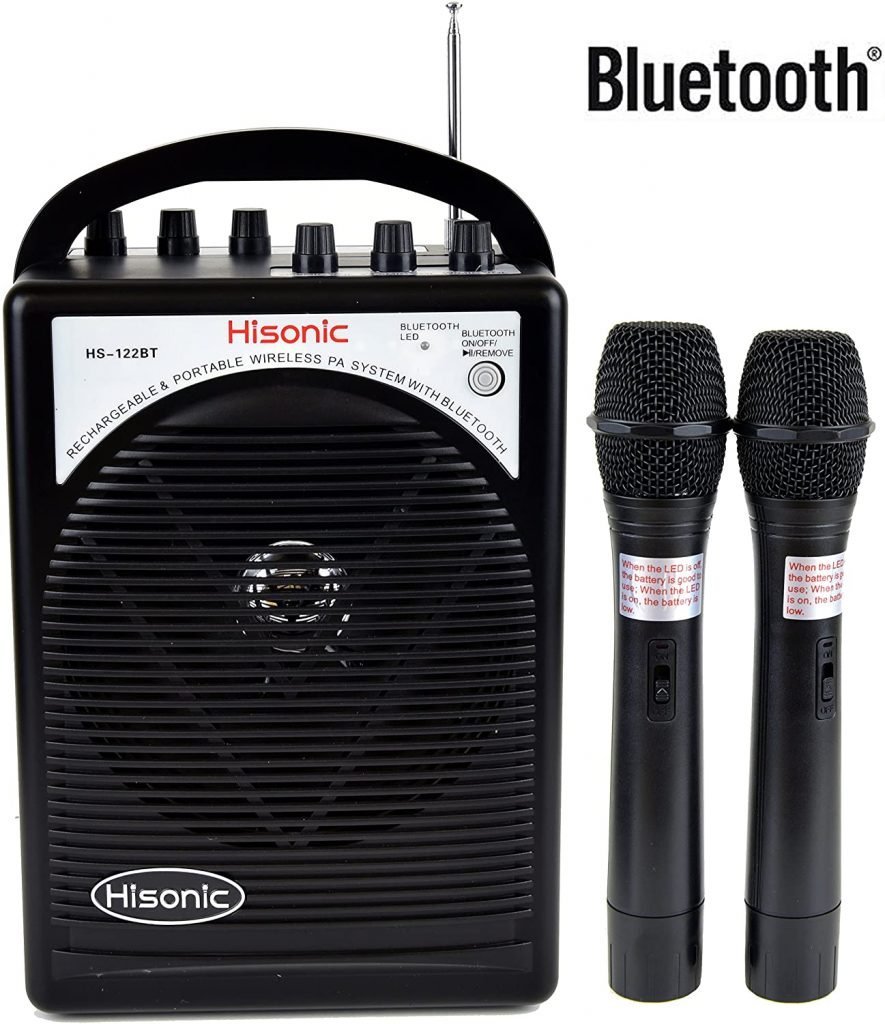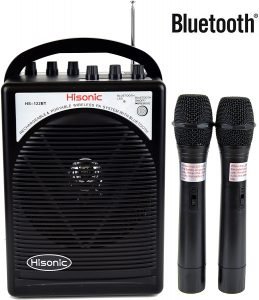 The HISONIC HS122BT-HH is another portable PA system. Unlike the Pyle Bluetooth system, however, this system comes with 2 separate wireless microphones. Despite producing only 40 Watts of power, this system has excellent sound quality with very minimal distortion, all at a very reasonable price.
With the HISONIC HS122BT-HH's dual channels, both of the wireless microphones can be used at the same time, which is a huge advantage. The system also uses lithium-ion batteries, allowing the system to be used for very long periods at a time, with both of the microphones being rechargeable. The wireless microphones are also in-built with VHF frequency. The system is able to reach over 70 people and it has excellent feedback rejection, reducing noise and distortion.
It does come with a major disadvantage, however, which also concerns its microphones. The VHF band may experience signal interference, causing distortion. Despite this, however, this PA system is still a very good choice
3. ARCHEER 150W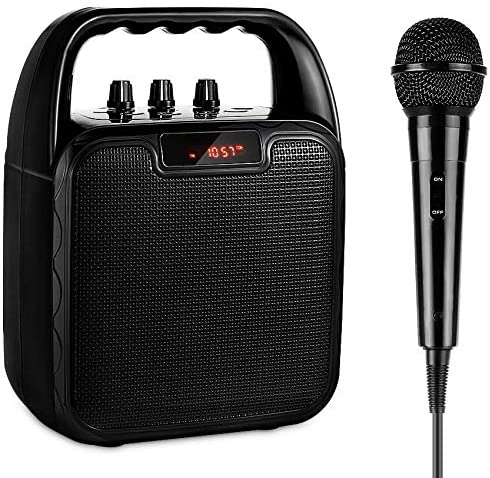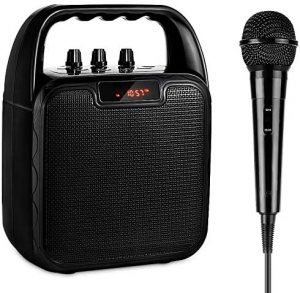 Another PA system with good reviews from consumers is the ARCHEER 150W. Its name already suggests how many Watts of power the system is able to produce, producing loud, clear, high-quality sound.
Along with being loud, the system is surprisingly compact. The system is also very lightweight and easy to set up, adding to its portability. This system is particularly good for party or karaoke functions, with its flashing LED lights adding to a fun atmosphere. The system can be connected to devices via Bluetooth, and along with a wireless mic coming with the system, the system has an additional mic input. Its reverb function makes the sound of a person's singing seem better as well. Along with all of this, the system has a 2000mAh rechargeable lithium battery that can last for a good amount of time.
You might have already guessed what this system's biggest flaw might be. Its flashing LED lights cannot be turned off, and although this might be perfect for parties, it is the exact opposite for serious business meetings, assemblies, and conferences.
4. W WINBRIDGE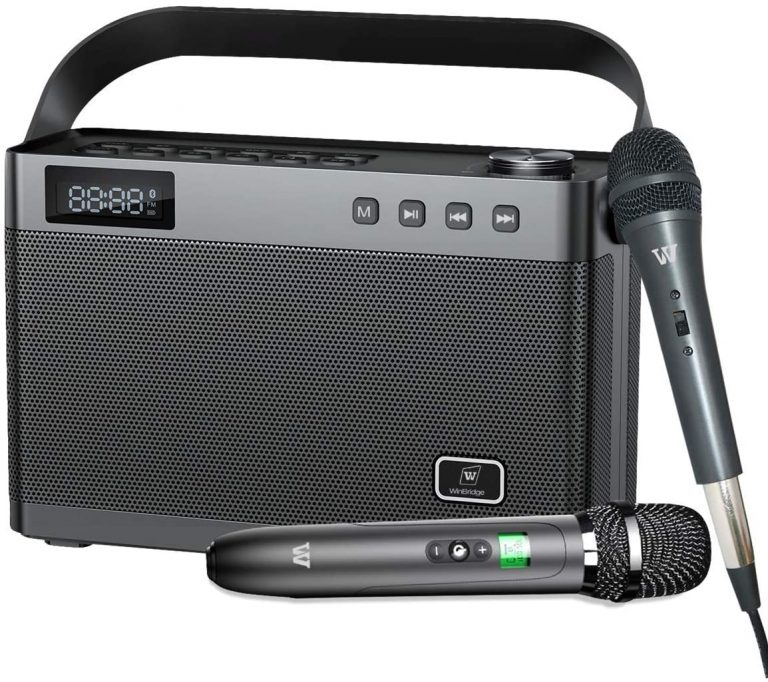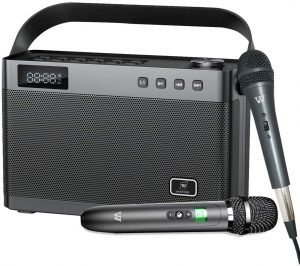 Although all of the previously mentioned PA systems on our list would be considered to be portable, compared to the W WINBRIDGE, you might not think so. Being so small that one would be able to carry it like a purse, there aren't many PA systems that are as portable.
Along with its compact size, the W WINBRIDGE has many other features. The PA system has a decent battery life of around 5 hours, with its 4000mAh battery being rechargeable. It has an option for adjusting bass, treble, and echo, along with a looping option. This system is also able to play FM radio, and can support both Bluetooth and USB, allowing it to connect to many different kinds of devices, Bluetooth compatible or no. Along with a wireless microphone, the PA system has an audio in/out.
Its compact size and portability do come at a disadvantage, however, with the W WINBRIDGE being suitable for applications of around 30 people. If your main concern is portability though, then this is definitely the choice for you.
5. Samson Expedition XP106W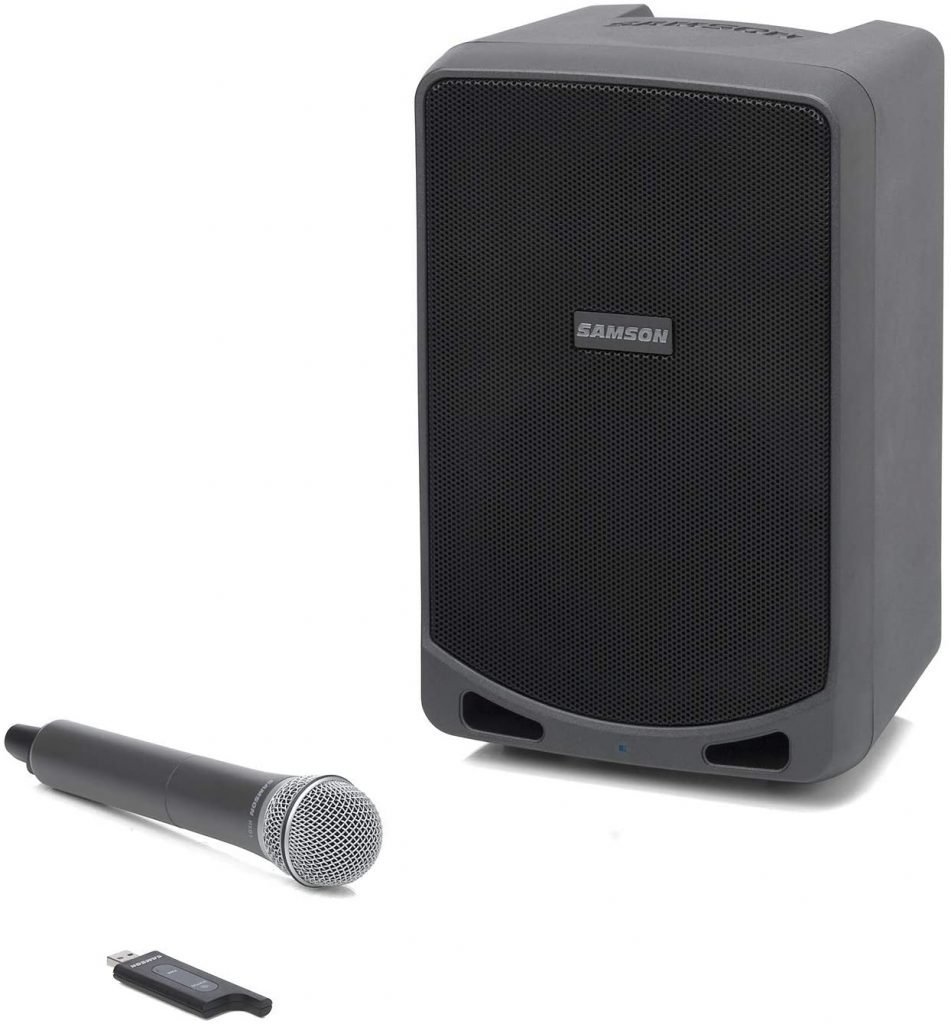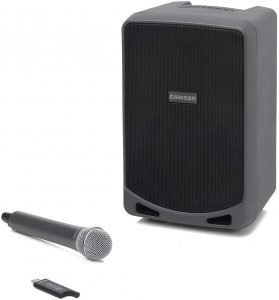 Although portable PA systems are desirable because of their convenience, the sound quality they produce isn't as high as that produced by non-portable systems. Although the previously mentioned PA systems in our list are all described to be able to produce sound of high quality, it was described with their portability being kept in mind. The Samson Expedition XP106W, on the other hand, is a portable PA system whose sound quality is excellent compared to even non-portable systems.
The system's sound is able to cover up to 300 people, much higher than any other PA system mentioned on our list so far. Along with its unreal sound quality, the Samson Expedition is extremely durable and has great longevity. Its battery life is also exceptional, lasting for longer durations compared to other portable PA systems. The system is also able to hold a very reliable and robust connection, having very little distortion in sound output. All of this makes it a very suitable system for large functions such as assemblies or wedding receptions.
With all of these incredible features, the obvious con of the Samson Expedition XP106W comes from the heavy price tag that comes along with it. If you're willing to spend a lot in order to receive a lot, then this is a very good choice for you.
6. EARISE M60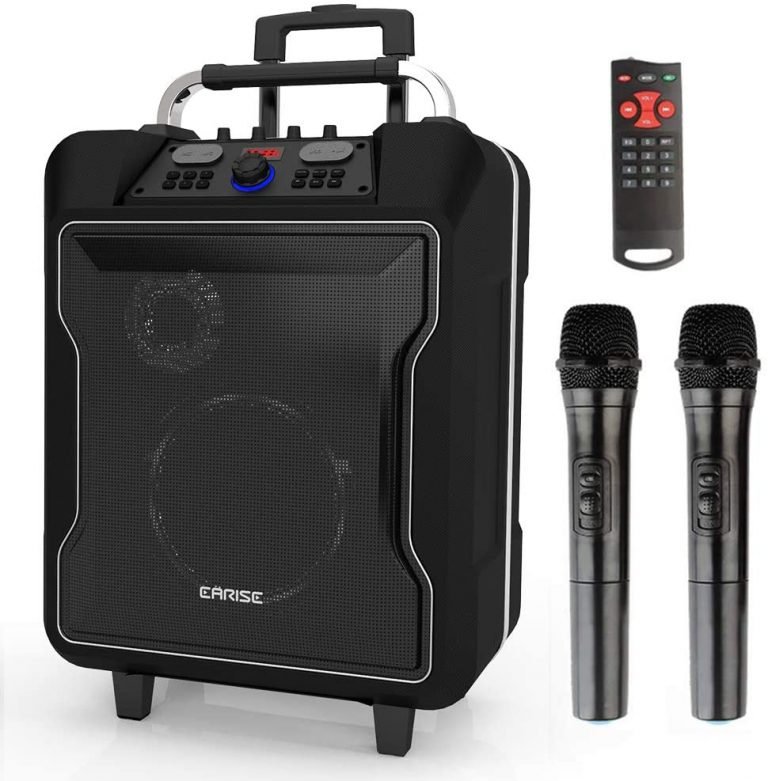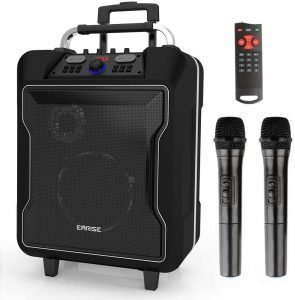 Similar to the HISONIC PA system mentioned earlier on our list, the EARISE M60 is also a dual wireless microphone PA system. What sets this apart from the HISONIC system is that the EARISE M60 has a 10-inch Subwoofer, giving it a very good bass sound.
Its other features include being able to connect to devices via Bluetooth, USB, or Auxiliary cable. Along with providing very clear sound with barely any distortion, the system also gives you the option of being able to listen FM radio. Along with being portable enough to carry around, the system has two back wheels and a pull-up latch, allowing for easier travel. The device is solid, sturdy, and durable. The system also has a high-capacity lead-acid battery that is capable of letting the device run for up to 50 hours at a time, a much higher number than any other PA system on our list so far. These functions can be adjusted with a remote control that comes along with the system.
There are a few disadvantages of the EARISE M60 too, however. Despite having very clear sound with minimal distortion, the maximum volume is not as loud as several other portable PA systems. The system's microphones are also not of the highest quality. Also, despite being able to connect via Bluetooth, USB, and Aux, the system does not have a CD port.
7. PRORECK FREEDOM 15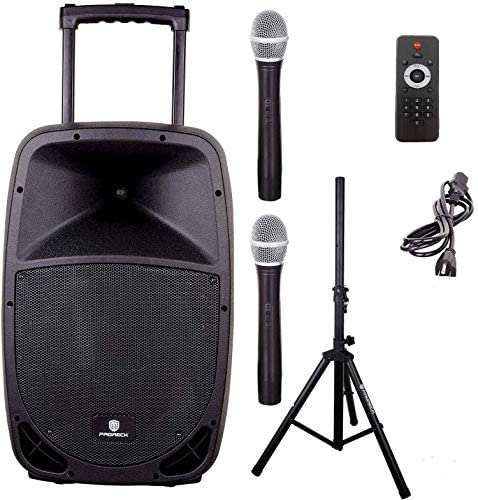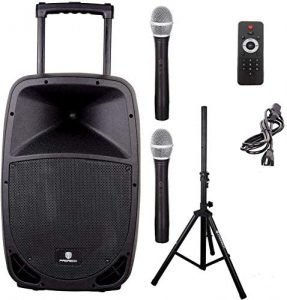 The PRORECK FREEDOM 15 is another portable PA system that comes with 2 wireless microphones. It provides an incredible 800 watts of power.
The system has a compression driver with a 1.35-inch diaphragm and a 15-inch woofer, allowing rich, full, and clear sounds. The system also has EQ knobs on the back that will allow you to adjust the sound output according to voice type. One can also use it to listen to FM radio. Its features can also be accessed via remote control.
The system provides around 30 feet of range via a Bluetooth connection. Moving the system around is very convenient too, as it has wheels and a pull-up latch, allowing for easy maneuvering. Along with all this, the PA system comes with mountable speaker stand as well.
On the other hand, the biggest disadvantage of the PRORECK FREEDOM 15 is its microphones. Despite the system being mostly of high quality, the microphones are not, as they have a very low battery life, lasting up to only 2 hours each. Also, for the clearest of sound to be output, users of the microphones must input sound by holding them very close to their lips before speaking.
8. Samson Expedition XP208w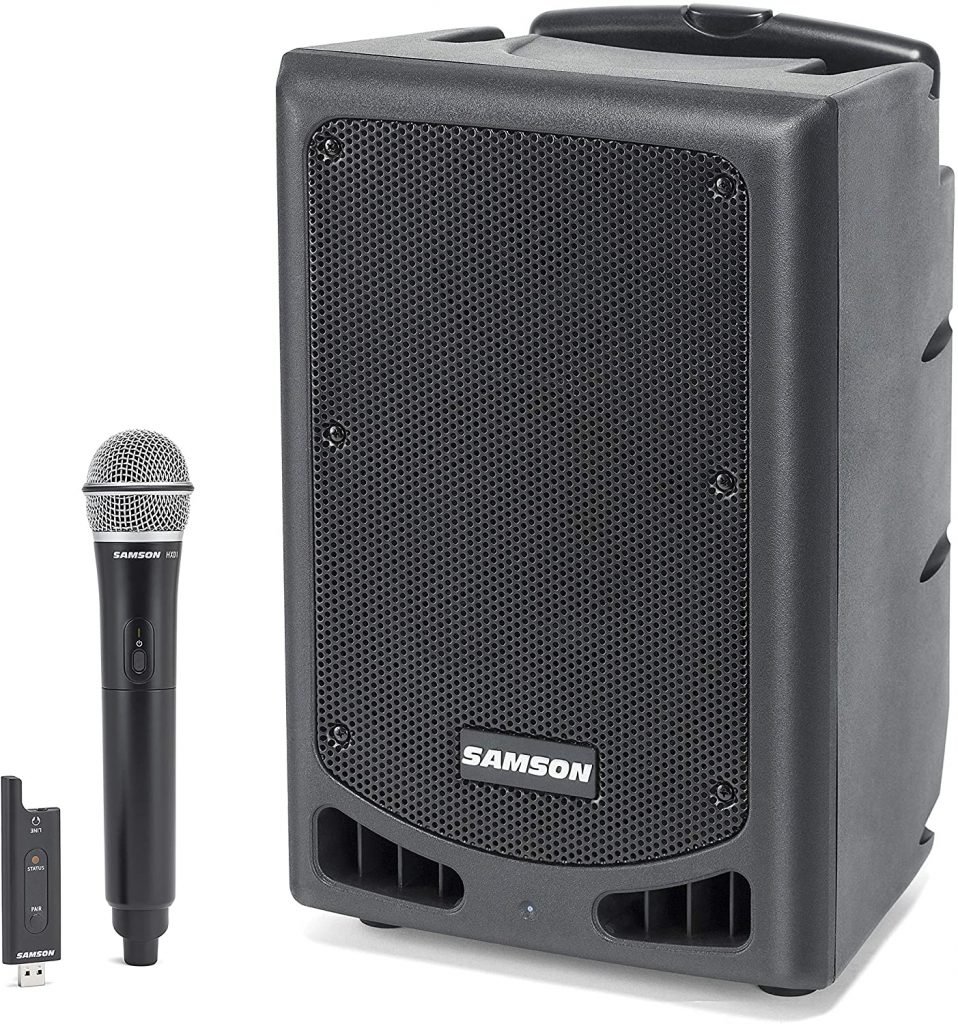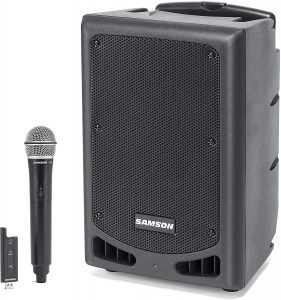 Similar to the other Samson Expedition PA system mentioned on our list, the Samson Expedition XP208w is another portable PA system whose sound quality and features rival other non-portable systems.
Considered to be the best wireless PA system available in the market today in terms of sound quality, this system is a must if you want the highest quality of sound available for your application. Producing 208 watts of power, the system provides super loud sounds, and is able to cover a staggering amount of around 400 people, the most on our list by a wide margin, beating out the previous highest by an extra 100 people. The system has Bluetooth capabilities as well. The system comes with a Samson XPD2 handheld digital microphone which is connected by a USB C mini transmitter. Also, the system comes with an 8-inch woofer, a 1-inch tweeter, and a 4-channel mixer. It also has a built-in rechargeable battery with a maximum life of 20 hours.
Just like the Samson Expedition XP106w, the Samson Expedition XP208w's biggest drawback is its price. If you require a system that will provide you with the greatest sound quality and are willing to pay a hefty amount to get it, then this system is perfect for you.
9. EARISE DT21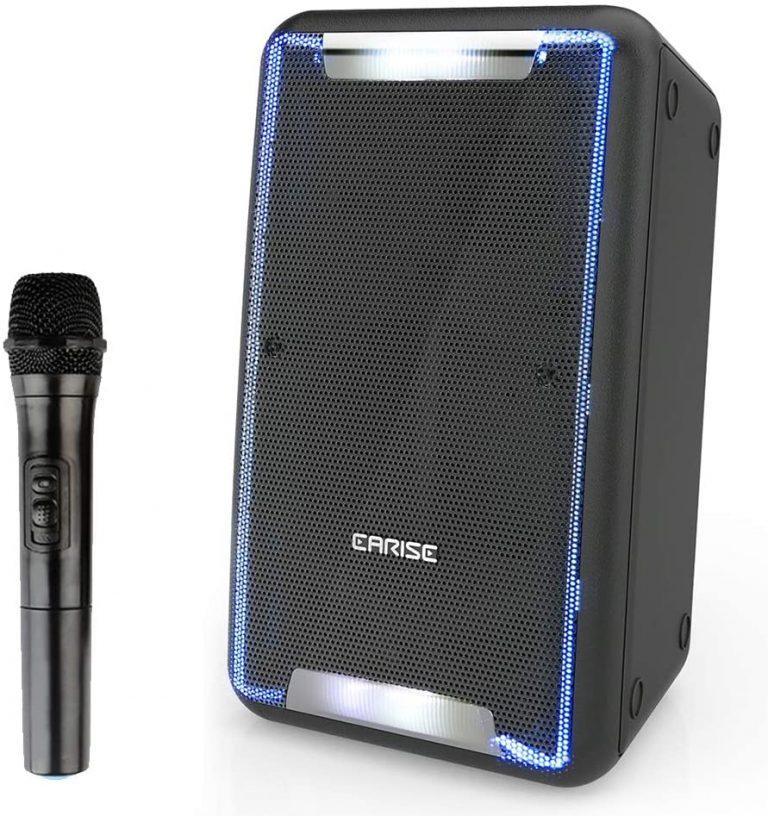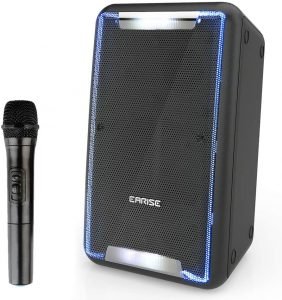 Last on our list is the EARISE DT21, a highly portable PA system that is geared primarily toward portability and convenience.
The system is able to provide crystal-clear sound output, being able to be connected to devices via Bluetooth. It is also a good option for parties or karaoke, as the system displays amazing-looking LED lights as music is being played. The EARISE DT21 is very compact and lightweight, with the system also having straps that are attached to the back of the speaker. The speaker can therefore be carried like a backpack, adding to the system's portability.
Despite its clear sound, the biggest drawback of the EARISE DT21 comes from the fact that both the system and the microphone are not very loud, only being able to be used for applications covering up to around 15 people. However, if your main focus is to find a system that provides you with clear sound output with high portability, this is a great choice for you.
Conclusion
With all of these systems having their own unique qualities and being different from each other in some way or another, it is up to you to decide which one fits best for your needs. Regardless of which one you end up choosing, you are sure to have a speaker that will not only be portable but will provide high-quality sound for you without being too much of a burden on your pocket. If you ever have trouble deciding, you can always come back to this article to help guide you.
FAQ:
Q: What is portable PA system?
A: – Powered with 50 watt of power that pumps up the surrounding. – A USB port for powering smartphones or tablets. – Easy pairing with NFC or Bluetooth and up to 100 feet of range.
Q: What is the best portable microphone system?
A: 250 MHz-260 MHz frequency range is very impressive for a VHF wireless microphone system. With 4 handheld microphones,this system is ideal for churches,halls and other places where group singing is a common activity. GTD Audio is a reputable brand with good customer service 4 Channel receivers. The microphones don't take up a lot of battery power
Q: Which is the best wireless microphone?
A: Wireless Microphones & Systems. #1. BONAOK Bluetooth Wireless Karaoke Microphone,3-in-1 Portable Handheld…. 4.4 out of 5 stars. 45,396. $30.99 – $69.99. #2. BlueFire 4 in 1 Karaoke Wireless Microphone with LED Lights, Portable Microphone for…. 4.4 out of 5 stars.
Q: What is a wireless PA system?
A: – The combination of the PA and monitors into one unit looks sleek – Thanks to the special technology invented by Bose you can put the PA system to the side of a performer or behind him – You get a sturdy case for poles with a nice handle and comfortable shoulder strap