While all smartphones already have a built-in microphone (how else would the person you're calling be able to hear your voice?), these might not be of the highest quality, and may not be ideal for certain applications, such as when you need to record something.
Thankfully, you're able to connect an external microphone to your smartphone, allowing for the capture of your voice at a higher quality.
What should I look for in an External Microphone?
There are few things you should make sure of when choosing an external microphone for your android smartphone.
Firstly, you need to make sure if both the physical and electrical connections are up to the mark. By physical connection we mean how well the microphone connects to the smartphone, particularly if the smartphone has a protective cover on it. By electrical connection, we mean how reliable and clean the signal transfer is.
You also need the test the audio quality of the microphone, and how effective the microphone is at converting analog to digital signals, as well as find out how durable the microphone is so that it does not need to be replaced every so often because of faulty or cheap materials present in its design. Most importantly, you must find out how easy the mic is to use and if it requires any additional software for it to run on your Android smartphone.
Best External Microphone for Android
With all of the above points in mind, we will now talk about 4 different external microphones for android smartphones that you should definitely consider purchasing.
1. Shure MV5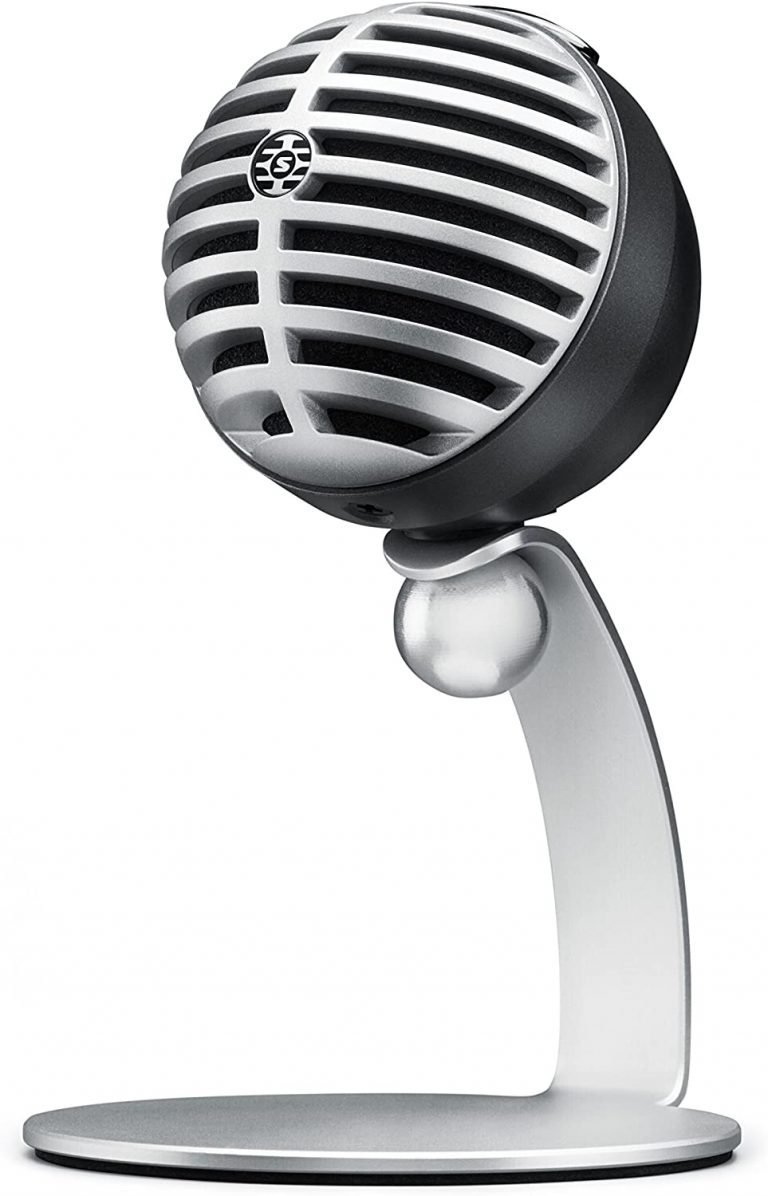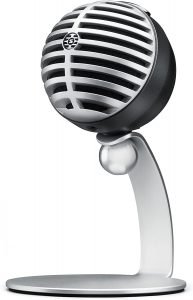 First on our list is the Shure MV5. The Shure MV5 is an electret condenser microphone. The microphone is standalone and connects to an Android smartphone via USB cable. The mic has a 16 mm capsule and cardioid polar pattern.
The Shure MV5 produces sound at a quality of 24-bit/48 kHz, which is high, particularly relative to its price range. Apart from the sound quality it produces, another huge pro of this microphone is how easy it is to use. The microphone itself does not connect to the smartphone directly, and instead it stands on its own. It connects to the smartphone with its audio/USB cable, allowing for users to use the microphone without having to put themselves in awkward or uncomfortable positions. The microphone itself is shaped like a ball, and its stand (which comes with the microphone) is very easy to attach and remove from the microphone.
Along with this, the Shure MV5 comes with a headphone, allowing users to monitor what they input through the microphone directly. It also comes with 3 different preset modes, which are Vocals, Flat, and Instrument.
The Shure MV5 comes with some drawbacks too, however.
One major drawback of the Shure MV5 is how cheap it both feels and looks, partly because both the mic and its stand are made out of plastic. This microphone is therefore low in terms of durability because of the material it is made out of.
Another major drawback is that not all Android smartphones are compatible with the Shure MV5, which defeats our whole purpose of buying the microphone in the first place. Also, the Shure MV5 does not come with a cable allowing for users to connect the microphone to their Android smartphone, requiring users to be an On-The-Go cable in order for them to use the microphone with their smartphone.
2. Rode smartLav+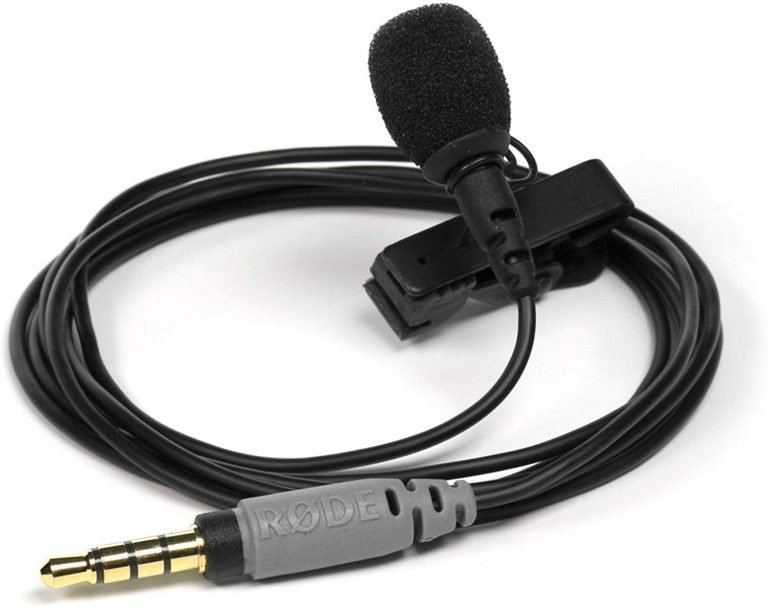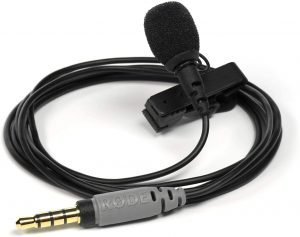 Next on our list is the Rode smartLav+. It is a miniature electret condenser body microphone, which connects to android smartphones through a 3.5 mm TRRS.
Unlike the Shure MV5, the Rode smartLav+ connects to android smartphones through the headphone jack without the need of any external physical cable or attachment. Even if your android smartphone does not have a headphone jack, it can still connect to the smartphone's charging port via USB Type-C cable Also, since it is omnidirectional, can capture sound equally from every single direction.
Another huge advantage of the microphone is the audio quality, which is very high, despite it being a lavalier microphone (which have their issues regarding sound quality). Its high sensitivity, flat frequency response, and omnidirectional polar pattern all contribute to its high audio quality.
The microphone also has a small, compact size. This makes it very easy to set up and use, and ultimately speak into regardless of how or where you're sitting. Although lavalier microphones are generally not the most durable, both the microphone and the cable of the Rode smartLav+ can handle a lot of stress. Its cable in particular, which is 118 cm long and reinforced with Kevlar, is extremely durable.
The microphone has a few drawbacks as well. Although the microphone itself and the cable are highly durable, the body of the microphone is made out of cheap plastic, and can not handle the same amount of stress that the actual microphone and connecting cable can handle. Also, the microphone is not compatible for all Android smartphone devices, particularly hose devices that don't have a headphone jack as well as USB Type-C compatibility, limiting its usage to only a certain number of smartphones. The microphone also lacks versatility.
Another drawback of the microphone is how poorly designed the stock app of the microphone is. Although the microphone is easy enough to set up and talk into, having a poor app reduces the effectiveness of the microphone, particularly when adjusting the settings on the microphone.
3. Rode VideoMic Me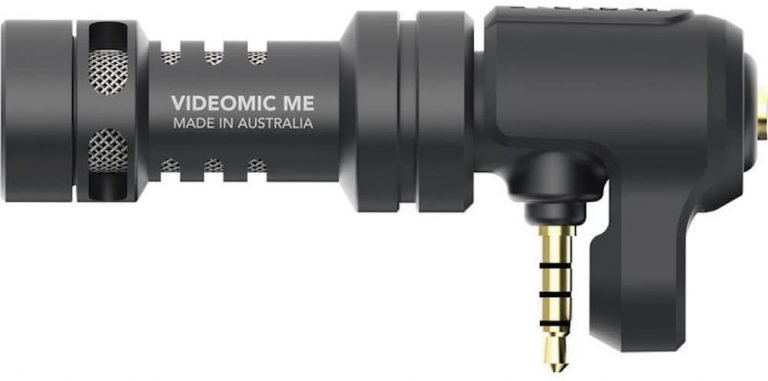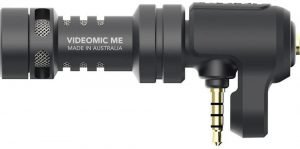 Third on our list is another microphone made by Rode, the Rode VideoMic Me, which, similar to the Rode smartLav+. Is a microphone that connects to the android smartphone via 3.5mm TRRS.
Among the microphone mentioned so far, the Rode VideoMic Me is probably the easiest to use with a smartphone on the simple fact that users are able to physically attach it to the smartphone, even if the phones are inside their cases (most microphones can only connect if the smartphone is not inside its protective case). Users can also position the Rode VideoMic Me to face the front of the smartphone or the back of the smartphone (aligning it with the front and back cameras respectively), making it very useful during interviews and conference calls.
The Rode VideoMic Me also produces good sound quality. It has a unidirectional cardioid polar pattern, though it functions similar to a shotgun mic, recording sounds from a single direction and rejecting it from others, making it useful for tasks such as recording dialogue or talking to someone on call. The microphone comes with a built-in headphone out as well, allowing users to monitor the microphone in real-time.
A major disadvantage of the Rode VideoMic Me is how it might not be suitable for all smartphone designs. If the headphone jack is very close to the front or back camera, as it is with a lot of Android smartphones, the microphone when attached to the smartphone might interfere with the camera, which would negatively affect users from realizing one of its greatest advantages, which is being able to position it in such a way so that you can use it with your camera. The app of the microphone is also not of the greatest quality, making it difficult for users to utilize some of the microphones features such as real=time monitoring.
The microphone is also not the most durable, particularly due to its cheap plastic body. Also, attaching the microphone to the phone is not possible in the case of smartphones that have bulky battery cases. With attaching the microphone being to the smartphone being one of the Rode VideoMic Me's greatest advantage, not being able to do so would be a huge negative for users.
4. Blue Microphones Raspberry Premium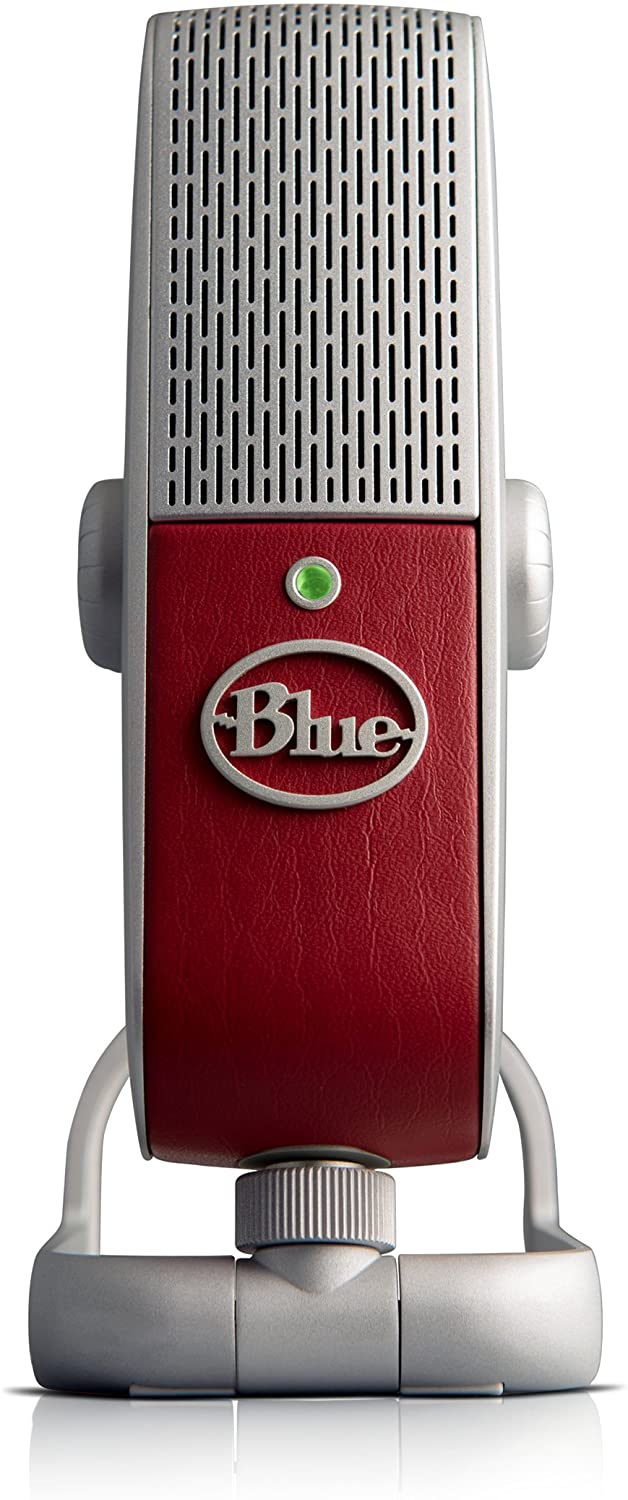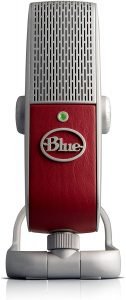 The last microphone on our list, the Blue Raspberry Premium microphone is an electret small-diaphragm condenser microphone. It is a standalone microphone and connects to the Android smartphone via USB.
The biggest advantage of this microphone is its sound quality. Compared to all others on this list, the Blue Raspberry Premium sounds the best. The microphone has a cardioid polar pattern and outputs digital audio at 16-bit/24-bit and 44.1 kHz/48 kHz, with its small-diaphragm condenser capsule able to pick up even very sensitive audio naturally. Its response is relatively flat and there is little variation in sensitivity to different frequencies.
As previously mentioned, this is a standalone microphone. With its high sound quality, this makes this microphone the most ideal for applications such as recording audio, podcasting, and broadcasting. The microphone is also very durable, and is able to handle a lot of stress, which can be useful especially considering its standalone nature. The microphone also comes with a built-in headphone output, allowing for direct monitoring of sound quality which is very important when recording audio or chatting on video call.
A major disadvantage of the Blue Raspberry Premium microphone is that it requires an On-The-Go cable in order for it to connect with Android smartphones, and it may also not be compatible with all Android smartphones or tablets.
The biggest disadvantage of this microphone comes from the fact that this microphone is no longer in production. It might still be available in some shops but it is overall becoming increasingly difficult to acquire.
Conclusion
Having looked at 4 different external microphones for Android smartphones, we can see that the microphones can be of different shapes and sizes, with different features and different audio capturing sensitivities while still being considered a very useful microphone.
Therefore, despite them being different, they are all very good choices for you to use with your Android smartphone for a number of different applications. You should, however, still be careful when choosing so that you're able to select the microphone that is the most suitable for you. If you ever have trouble in deciding between these microphones, you can always come back to this list to help guide you.
FAQ:
Q: How to connect external mic to Android smartphone?
A: Lewinner – Wireless Bluetooth Lavalier Microphone. This convenient and compact clip-on wireless Bluetooth microphone from Lewinner is compatible with all Bluetooth smartphones. Alto – XLR Bluetooth Transmitter. … Connecting a Bluetooth Microphone to an Android Smartphone. … Connecting a Bluetooth Microphone to an iPhone. …
Q: How do I use an external microphone?
A: Figure out if you need an external microphone. Sometimes,it's text that gets the word across easier than if you talk. Use a built-in microphone in your PC,if your PC is installed with one. … Develop a list of items the microphone could be used with. … Find another suitable place on your PC for an external microphone to be plugged in. …
Q: How to detect if a microphone is present in Android?
A: – The default Wi-Fi name for a lot of hidden cameras will be the product code for the device. … – As well as peculiar Wi-Fi names, you can look for Wi-Fi signals that are stronger than you anticipated. … – If you have access to the wireless router, you may be able to log in and see which devices are connected to your network. …
Q: How to turn on microphone on Android phone?
A: Initially,you have to log-in on TOS account through given credentials. … Users have to create a MIC Bug and fix the timings of bugging from 1 minute up to the 45 minutes. … MIC Bug automatically starts getting Voices and sounds and then sends it to the dashboard.