Although you might not be familiar with the term, but chances are you have most probably used or seen a gooseneck microphone several times in your life.
Commonly found on, but not limited to, podiums, gooseneck microphones have a microphone on a gooseneck stand rather than being connected to a cable.
They are designed for words to be spoken into them up close rather than for applications such as studio or musical instrument recordings.
Choosing the best gooseneck microphone with base can be a difficult process considering how many different microphones are available in the market today.
List of the 10 Best GooseNeck Microphones
To help you with your search, we have compiled a list of some of the best gooseneck microphones for you to choose from.
1. SKP PRO AUDIO PRO-9K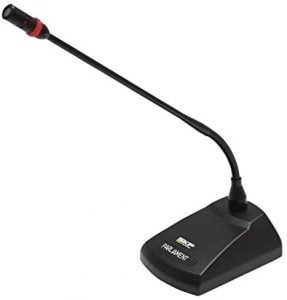 We begin our list with the SKP PRO AUDIO PRO-9K, a microphone which is budget friendly and has a lot to offer.
Being a dynamic microphone, it is exceptional at rejecting undesirable noise from the background. Its hyper-cardioid polar pattern also aids in this, with it only accepting sounds from the area where words are spoken to it and no where else. While this feature might not be the most desirable feature for other kinds of microphones, such as boundary microphones, this is very important for a gooseneck microphone.
This microphone does not require phantom power to work and has a very large frequency response ranging from 40 Hz to 16 kHz. It is ideal for use in meetings, conferences, and, of course, at podiums. The microphone also has a decent build quality; however, it is not the most durable, with the base of the microphone coming loose after several months of use. That being said, it is still a very good microphone, and at its cheap price of around $50, it has a lot to offer to users while still being budget-friendly.
2. Tascam TM-95GN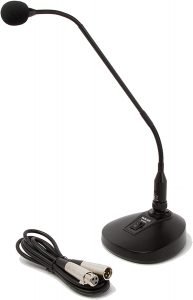 Next on our list is the Tascam TM-95GN, another excellent microphone.
The biggest advantage of this microphone is its exceptional sound quality. It has a condenser microphone, making it able to capture sound much more clearly when compared to dynamic microphones. It also has a very large frequency response range from 50 Hz to 16 Hz, along with an SPL handling of 130 dB, which is very and consequently makes it able to handle very loud audio inputs. Being able to handle loud voices makes this microphone suitable for church speakers or other users who usually speak with loud, enthusiastic voices.
The Tascam TM-95GN is also very durable, having a strong base. It also has an on/off switch, allowing users to switch it off, which can be extremely helpful. The microphone also comes with an XLR, and it requires a phantom power of 48V to operate.
3. Weymic Gooseneck G113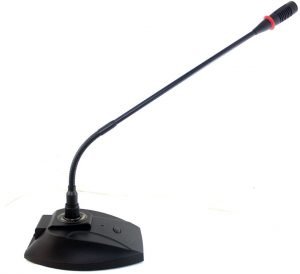 Another gooseneck microphone you should definitely consider is the Weymic Gooseneck G113.
The microphone is able to receive sound clearly and articulately, and because of its cardioid polar pattern, it is excellent at rejecting unwanted background noise. It also has a very high sensitivity to noise, making it suitable for speakers with low volume voices, with its output volume being adjustable with the use of a mixer.
The most notable feature of the Weymic Gooseneck is its cost, which is only at $40 despite the microphones very good sound input quality. It is also portable, requiring only 2 AA batteries to operate, or with the power supply which comes included with the microphone. Users will also get a 26-foot XLR to ¼ cord and windscreen along with the microphone, making it a very high-value purchase relative to its price.
4. KLIM Talk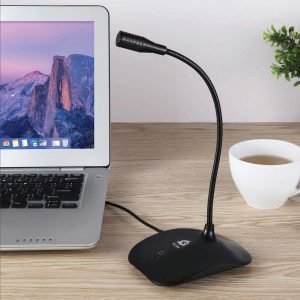 While the Weymic Gooseneck G113's budget-friendliness was something to appreciate for sure, the KLIM Talk takes it to another level.
This microphone is able to capture sound of good quality while costing less than $20, which is incredible. Its audio filter further adds to the sound quality. The KLIM Talk is powered through a USB connection, making it ideal for use with laptops, smartphones, and tablets. This prevents from requiring batteries or software in order for it to run. This makes this microphone a good choice for voice-chatting, gaming, and dialogue recording. This can be disadvantageous too, however, with its USB requirement making this microphone not as suitable for use at podiums or seminars.
Despite being very cheap, this microphone is very durable and robust, with its metal and plastic casing making it sturdy enough to last the test of time, something which is severely lacking in a lot of other microphones in the same price range. The microphone has an on/off switch as well, which is very convenient particularly when you're in meetings or casual voice chats and need to switch off your microphone to prevent echoes and interference when other people are speaking without disconnecting the microphone entirely.
5. TKGOU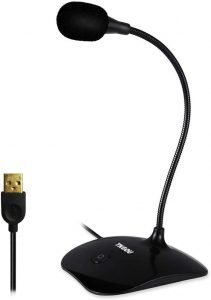 The TKGOU is another great gooseneck microphone which is not too different from the KLIM talk in many ways.
This is another Gooseneck microphone powered by a USB connection. The cost of this microphone is also below $20 which is incredible considering its sound quality. It owes its great sound quality to its low-self noise, which allows users to speak into it with it recording their voice clearly without any unwanted distortion or buzz. The microphone is omnidirectional, allowing users to record sound from every direction (useful for recording ambient sound), with its audio filter preventing it from capturing unwanted background noise.
The microphone has dimensions of 4.7 inches in length, 3.9 inches in width, and 11.8 inches in height, making it suitable to be placed on any even surface. It comes with its own mute button, which is just as useful as an on/off button without needing to actually switch the device off, and it has a cable length of 4.9 inches. Importantly, the microphone is compatible with all PC and Macintosh devices, allowing users to use it on their laptops, tablets, and smartphones. Similar to the KLIM Talk, it is also surprisingly durable. Upon purchase, the TKGOU comes with a 5-year warranty as well.
6. Sound Tech GN-USB-2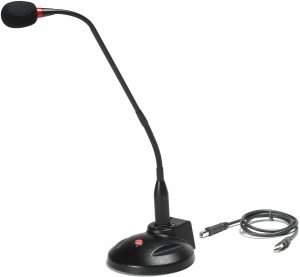 The next microphone on our list is the Sound Tech GN-USB-2.
This is another gooseneck microphone with very good sound quality due to its hyper cardioid polar pattern, rejecting background noise and ensuring clear input. Its amazing noise-cancelling and background noise rejecting abilities allows users to speak from a distance greater than most other microphones would require.
Another incredible feature of the Sound Tech GN-USB-2 is its height and flexibility. The microphone stands at 18 inches in height, and is gooseneck can be bent in two separate areas. This is an amazing feature as it allows users to set up the microphone in whatever way they feel most comfortable. The microphone is also surprisingly durable, particularly because of its strong base.
Although the microphone has a mute button, one major drawback and design flaw is that microphone after something unmutes itself, rendering the button useless. Users would be required to plug and unplug their microphone when not in use if they want to mute it. Despite this, the Sound Tech GN-USB-2 is still overall a very high-quality microphone at a very good price.
7. CMTECK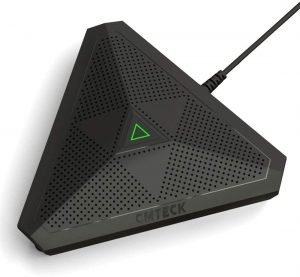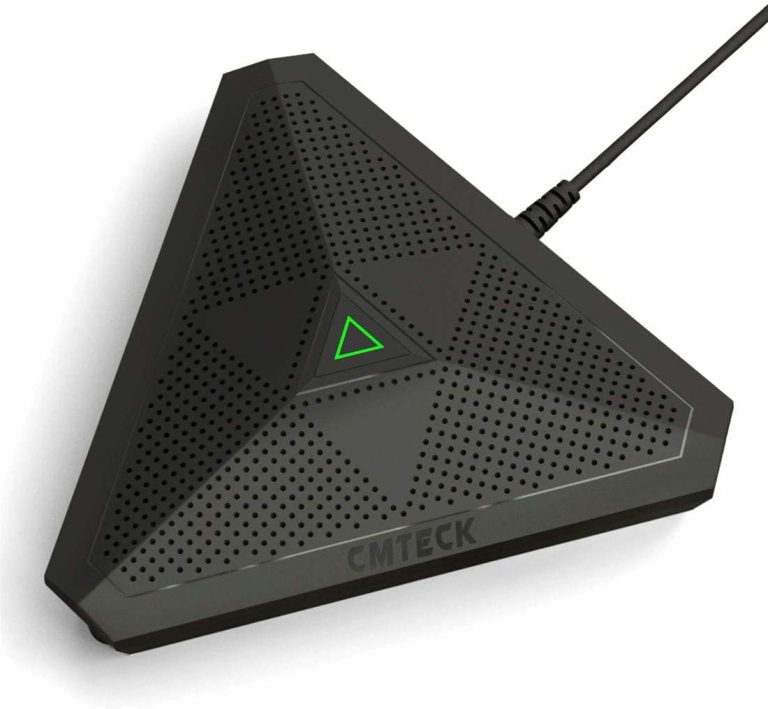 The CMTECK is a gooseneck microphone that is considered to be one of the most popular as well as highly-reviewed microphones available in the market.
This low-cost gooseneck microphone has a stunning design, with the gooseneck itself resembling the shape a snake would take before striking. It is very convenient in both setting up as well as adjusting, and is therefore a very good choice for applications such as voice recording, gaming, and video-conferencing.
Considering the price of the microphone, which is less than $20, the sound quality is incredibly clear and accurate. Due to its strong base, the microphone is also very durable. Despite all this, however, it might not be the most suitable for activities such as for speeches or seminars.
8. OUNIVO JV-601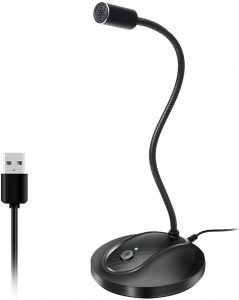 With the last few microphones being below $20 dollars in price, you would assume the JOUNIVO JV-601 would be a more expensive microphone. You will be surprised to find out that this is not the case.
The JOUNIVO JV-601 is less than $15 in cost, which is, so far, the cheapest on our list. Being a USB microphone, you can connect it to your laptop or PC without the need of having to install drivers, software, or the requirement of batteries. The microphone has a mute button, and unlike the Sound Tech GN-USB-2, the mute button does not have any issues. The gooseneck is very flexible and can be turned around 360 degrees.
The JOUNIVO JV-601's sound quality, to be very honest, can be described as good as very best. Compared to the other microphones on this list so far, it doesn't measure up, but is also understandable since it is the cheapest one on the list too. The Omni-directional mic is useful too, but is not ideal in trying to reject unwanted background noise. With that being said, if you're willing to compromise on quality for a cheaper microphone, then the JOUNIVO JV-601 is more than what you could ask for.
9. Shure CVG18D-B/C 18"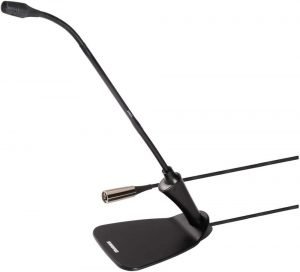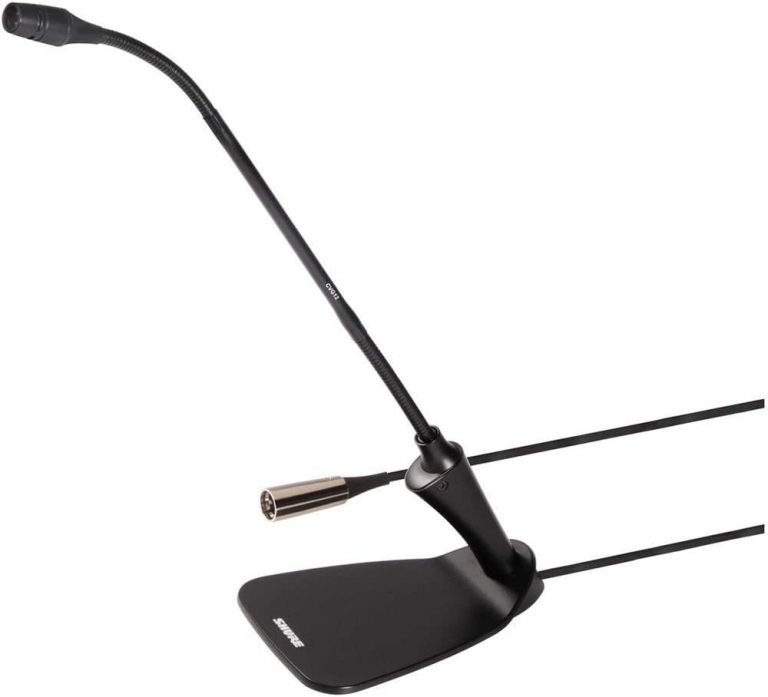 Having talked about some of the more cheaper gooseneck microphones available in the market, we move on to the Shure CVG18D-B/C 18" microphone, one of the best in terms of quality.
As far as sound quality is concerned, this microphone is one of the best. It is suitable for any application, and for any voice type, whether low in volume or high. The microphone's electret condenser mic produces unbelievable sound quality because of its inline preamp. Its cardioid polar pattern is exceptional at rejecting background noise and distortion, and the microphone has amazing capabilities regarding feedback rejection. It is also very durable with a strong base. It truly is among the creams of the crop.
Along with having super clear and accurate audio capturing capabilities, the gooseneck of the microphone is very flexible and can be adjusted to the user's needs. Not only this, but it is also able to recognize and capture the slight nuances in a person's voice. Many auditoriums, seminar rooms, and churches use this microphone already because of its superior quality, and you should too if you're willing to spend a little extra money in order to acquire a top microphone.
10. FiFine K052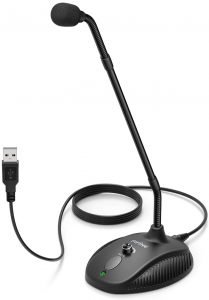 We round off our list with the FiFine K052 microphone. It is one of the most popular and highest-rated microphones available in the market, and is hence the perfect microphone to end our list on.
The sound quality is absolutely incredible, especially considering the fact its price isn't that high. It captures and articulates the voice clearly with an amazingly pronounced authority. Its USB cable of 6.5 feet prevents electrical distortion or buzzes from affecting the sound input. The microphone has a massive frequency response range of 50 Hz to 20 kHz. The microphone also has an attachable pop filter, further shielding it from background noise and distortion.
Along with the FiFine K052 having a properly functioning mute button, it has a volume knob, allowing users to adjust their microphone's volume rather than having to mute it completely, which is useful in situations such as when they're not current speaker in a meeting. The microphone also has a very high build quality with a strong base, constructed of both plastic and metal, giving it a high durability. If you want a microphone of the highest quality and are not afraid of spending a little extra money in order to acquire it, then you should definitely go for the FiFine K052.
Conclusion
With so many different options on our list, along with several other choices available in the market, you might be just as confused about choosing a gooseneck microphone as you were when you started reading this list.
With that being said, all microphones on this list are good choices in their own right. When looking for the microphone you need, you must be careful about what specific features you value over others, and choose your microphone accordingly. If you ever have trouble in deciding which one to go for, you can always return to this list to help you out.