If you've been involved in streaming or podcasting, chances are you've got some exposure to the microphone industry.
You've inevitably gone on market hunts for the right product with three things on your mind: affordability, flexibility, and looks, and inevitably, your path has led you to the Blue Yeti.
Well its good to consider other options than the Blue Yeti. Hence we have put forth a guide on the top Blue Yeti Alternatives in the market.
While it has stood the test of time in the past, the boom (pun intended) in the electronics industry raises the question of whether its dominion over audio is here to stay or has it rightfully been challenged by others worthy of recording your content?
As it turns out, we deem the challengers to be fair. The market is loaded to the brim with gorgeous-sounding microphones that are light on your pocket and will give the Yeti a run for its money.
If you want to defy tradition and take an avant-garde approach to the way you produce your content, our guide to the three best Yeti alternatives is exactly what you're looking for.
3 Best Blue Yeti Alternatives
1. Top Choice – HyperX QuadCast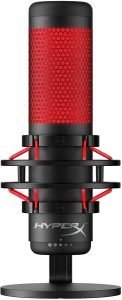 With an award-winning, intuitive design and excellent sound quality boosted by the same four polar patterns that the Yeti utilizes, the HyperX QuadCast is the competitor Blue has to beat to stay in the game. We believe that this is the epitome of current modern microphones.
Overview
With a large black grill that lights up red and orange internally when in use, you can count on those twitch streams looking absolutely sick. Not to mention, you can totally forget about saying something you didn't mean to while you're on air.
The design isn't just gorgeous, it's efficient too. Want to mute? You don't have to probe the device to find that small button, just tap the top of the mic. Want to adjust gain? Just rotate the base. Revolutionary.
When it comes to mounting the device, you've got two options. You can either use the sturdy shock mount – which comes with the device – to minimize the effects of bumping the HyperX (or the desk it is placed on) or you can attach it to a boom pole to inhibit the sound of your keyboard as your fingers click away.
If you're a seasoned Blue Yeti user, you already know about the four polar patterns. Streaming or podcasting? Cardioid. Interviews? Bidirectional. Music or ambient sound?  Omnidirectional or stereo. With all these choices, we've experienced the best day to day usage results with a cardioid.
With its plug and play approach, setting up should be a breeze. However, the USB's limitations will confine you to CD-quality sound. Nevertheless, the general awareness of your audience and bandwidth restrictions will ensure that this will not be a problem.
What We Didn't Like
While the HyperX does a fair job of isolating plosives, it has some troubles with sibilants thanks to the absence of a pop filter. Nevertheless, the foam like material inside the grill does a decent enough job at cancelling out noise. Also, while the red light may add a punch to some streamers' content, if it doesn't match with your room's lighting setup, you might not be super enthusiastic about it.
2. Best Value – Razer Seiren X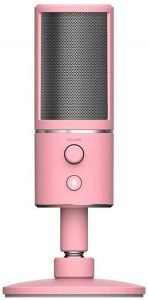 If you want to do your pocket a favour, this is the best alternative to the Yeti. The mic is easy to set-up and therefore portable. Thanks to its condenser mic, you'll observe sound quality that is similar to the Yeti. However, it has one polar pattern only, so if you're just getting into podcasting or are only streaming, the mic comfortably caters to your specific requirements.
Overview
Having opted for simple is better, the Seiren X comes in a plastic body – in three colour options – with a single button that turns the mic on or mutes it and a volume dial for your headphones.  A green/red LED serves as an indicator. The mic lets you connect headphones directly to its 3.5mm jack, letting it serve as a pass through, and solving your cable issues.
Coupled with its detachable stand, this lightweight plug and play device is all about portability.
When it comes to sound, the capsule utilizes a super-cardioid pattern, or in other words, it's a cardioid which picks up some sound from its backside. As long as your computer is not on a desk, this shouldn't be an issue, but if it is, you might want to adjust the position if the mic a bit to make sure you don't capture the hum of your computer's fans. That said, the noise cancellation is great!
What's Bad About it?
This mic is likely to pick up keypresses, so if someone uses a mechanical keyboard, they won't be too happy with those clicking sounds on their streams. Additionally, the USB jack has a bit of a strange orientation and can tense cables can loosen the input.
3. A Great Choice: Samson G-Track Pro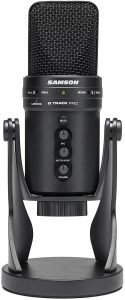 Featuring three polar patterns, the G-Track Pro lets you switch between podcasting, streaming or producing music spontaneously. The build is solid and the 6.3mm jack onboard lets you connect a guitar or any other audio device to record them on a separate track. With all these features at a price just above the Yeti, this is an amazing microphone.
Overview
The sturdy device and its stand are both made of die-cast zinc. Not only does that make it tough to damage them, but the weight ensures that any accidental touches won't make it fall over either. The body features two switches for the polar pattern and three dials to adjust the volume of the headphones, microphone gain, or what you plug into the 6.3mm jack.
We felt that the mixer was a standout feature. Musicians who want to record vocals and instruments on separate channels will find it as a lifesaver. Setting the device to mono lets you deal with single-track output while setting into 2 track can let you record two separate channels. Plugging in headphones lets you listen to the audio input simultaneously.
While the device does not feature a stereo polar pattern, the three it has, are more than adequate. The omnidirectional makes music tones (mids in particular) pop. As far as noise goes, the lowest frequency response is 50Hz which shouldn't undermine your recording clarity as long as you're dealing with voices or music without deep percussions. If you exceed the loudness tolerance of the mic, the indicator light starts flashing.
What's bad about it?
While the mic itself may not seem to be too expensive, the issue is that's all. When you purchase it, you get just the mic. You'll have to buy a pop filter, shock mount or stand adapter separately. The red warning light is also known to start behaving bizarrely. It might start blinking despite the absence of any loud sounds. This can get pretty annoying.