If you are fond of podcasting, you know how difficult it is to find the best microphone for your voice.
Podcasting is a type of broadcasting that delivers audio content via an Internet connection, so people can listen to it at their convenience.
Since this type of broadcasting includes a lot of talking instead of music, a microphone with good speech quality is essential.
Generally speaking, dynamic microphones are better for podcasting because they make better use of audio bandwidth while condenser mics work better for recording live music.
How to Choose a Dynamic Microphone for Podcasting
Recording sound with close proximity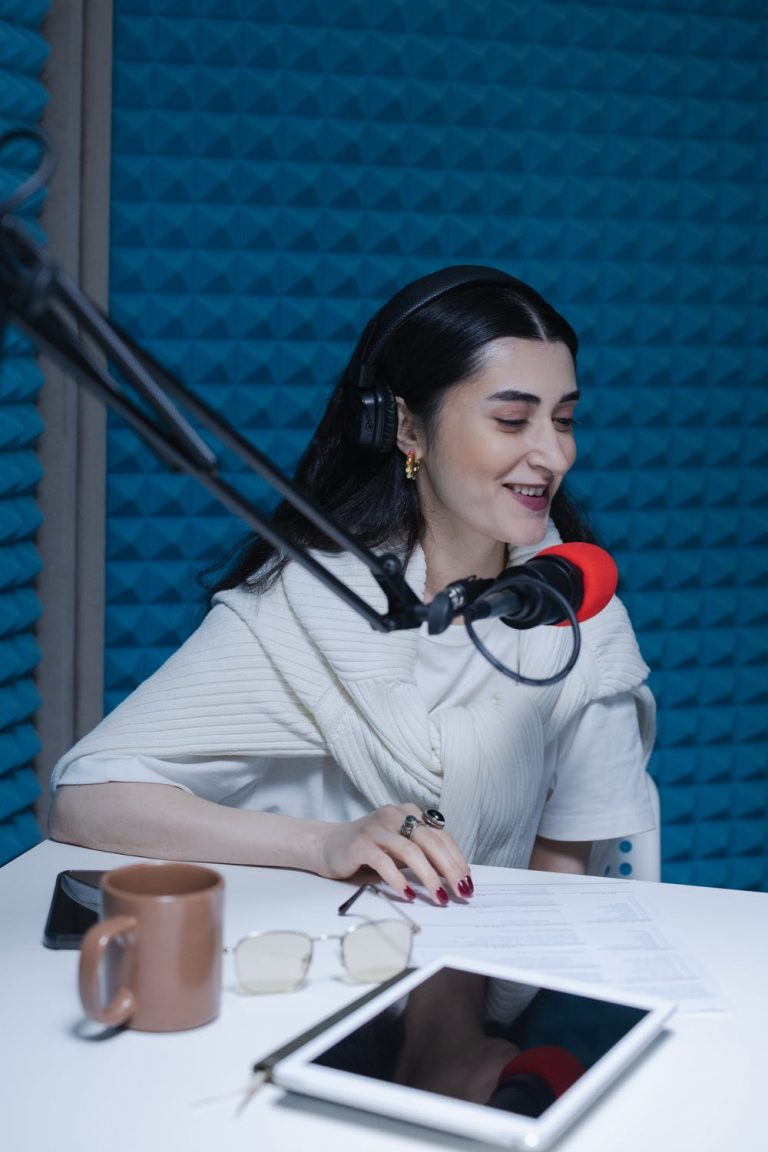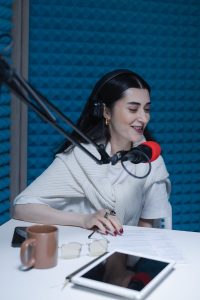 The first factor to take into account when buying a dynamic mic for podcasting is sound recording quality, which is often determined by how close the microphone is from your mouth.
Voice pattern & quality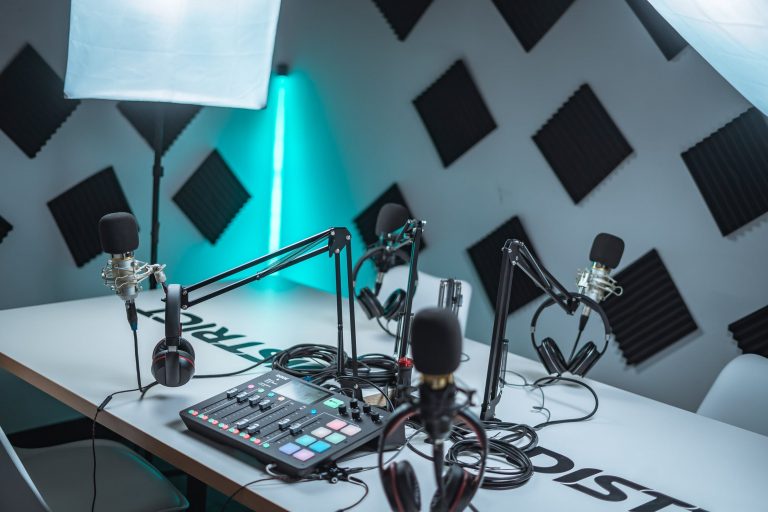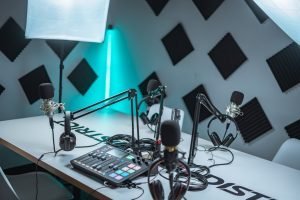 Voice pattern and quality are also important factors when considering a microphone for podcasting. For example; if you have a deep, gravelly voice or are whispering then you need a mic that can pick up lower frequencies while also being able to work with less input of volume because of your soft voice.
If you have an infant's voice or speak in shouts then you need one that has a high enough frequency range to capture it without distortion or cancellation of important content.
Price
The overall price of the microphone is an important factor for podcasting. It's more than just your microphone, but all the other equipment you're using which will be listed below. You need to ensure that you get a quality product that will last and not burn out.
Size & Weight of Mic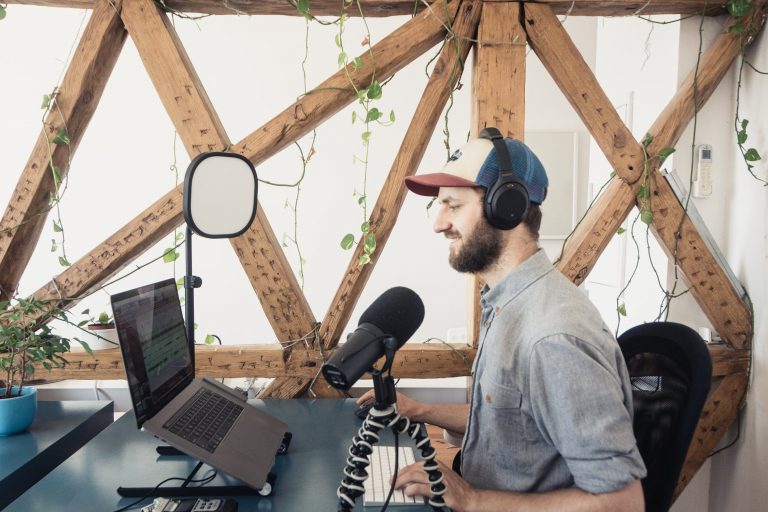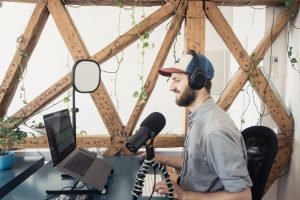 The size and weight of your microphone are important factors to consider. Some people will require a relatively large and heavy mic while others may require a thinner and lighter microphone. You need to make sure that you get one that is within your budget and also doesn't weigh you down as you move around to do podcasting.
———————————————————————————————————————————–
Related Guides:
———————————————————————————————————————————–
8 Best Dynamic Microphones For Podcasting
The following post is about 8 dynamic microphones that are ideal for podcasting and will also help you save some money.
1) Shure SM7B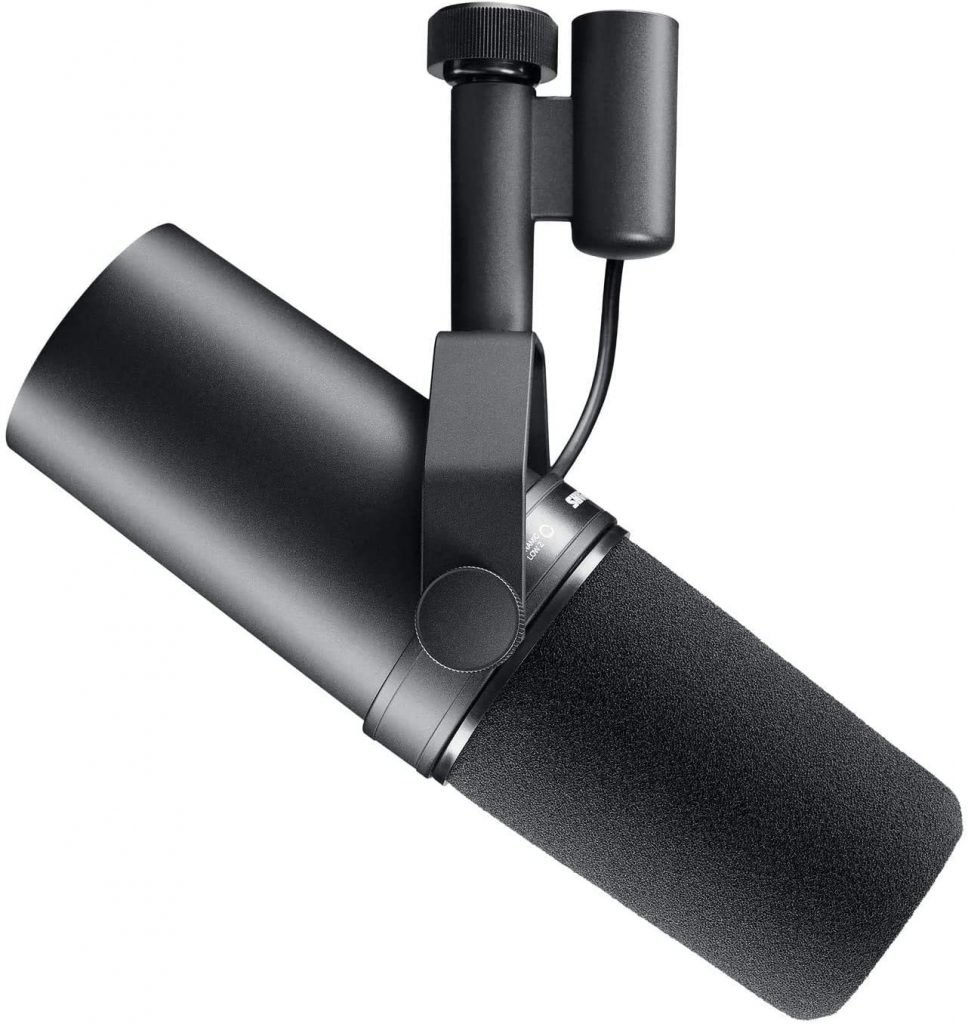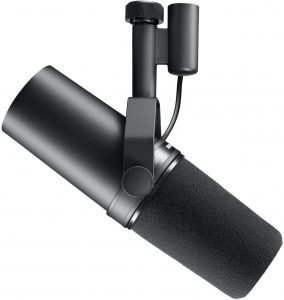 The Shure SM7B is one of the best dynamic microphones around.
It has a high maximum sound pressure level of 135dB and a frequency response from 50Hz to 15kHz. The Shure SM7B is also known for its low self-noise and includes 3 switches: presence, bass roll-off, and high-frequency roll-off.
On the downside, this microphone is known for having a heavy sound with less definition in the upper midrange region.
2) Electro-Voice RE320 

The Electro-Voice RE320 offers a high maximum sound pressure level of 145dB and it's also great for podcasting.
It comes with a built-in amplifier which can draw you back from purchasing an additional one.
On the downside, some people complain that the RE320 has an awkwardly heavy sound, but this can be fixed by properly placing the microphone thanks to its Omni-directional pick-up pattern.
3. Rode Procaster 

The Rode Procaster is one of my favorite microphones of all time and it's definitely worth checking out.
It has a frequency response from 188Hz to 16KHz, which makes it perfect for podcasting. To make things even better, the Rode Procaster has a selectable high-pass filter that allows you to remove unnecessary low-frequency content.
On the downside, some users complain that this microphone is too sensitive and picks up quite a lot of background noise.
4. Sennheiser E835 

The Sennheiser E835 is one of ideal for Podcasters of any level. It has a frequency response from 60Hz to 20kHz and a sound pressure level of 100dB.
It also comes with a noise-cancellation system that removes all unnecessary background frequencies.
On the downside, some people complain that the E835 has a rather heavy sound.
5. Shure SM58S

The Shure SM58S is a newer model which looks similar to the SM58, but it's smaller and has a built-in shock mount. The sound quality and features are exactly the same as the SM58.
This one costs under $100, so you can't go wrong with this microphone for podcasting either if you don't mind having a smaller version of the SM58.
6. Audio Technica AT2020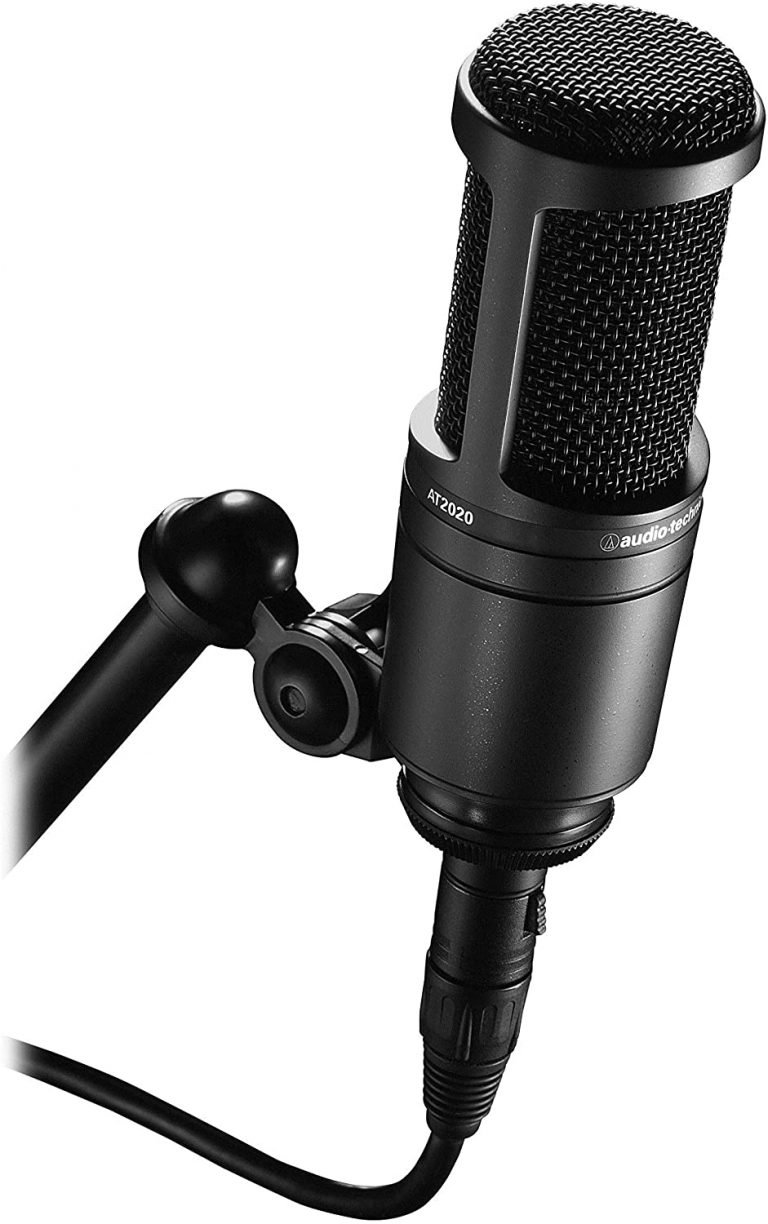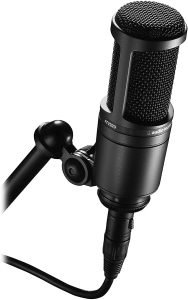 The Audio Technica AT2020 is another cardioid microphone that delivers impressive audio quality. This dynamic microphone can be used with an audio interface or a mixer. It's a bit pricier than other models on this list, but it's worth the money if you want to have the best results possible.
It comes under $200, and you can record concerts, podcasts, or even complete bands with this one if you want to make your studio complete.
7. Samson Q2U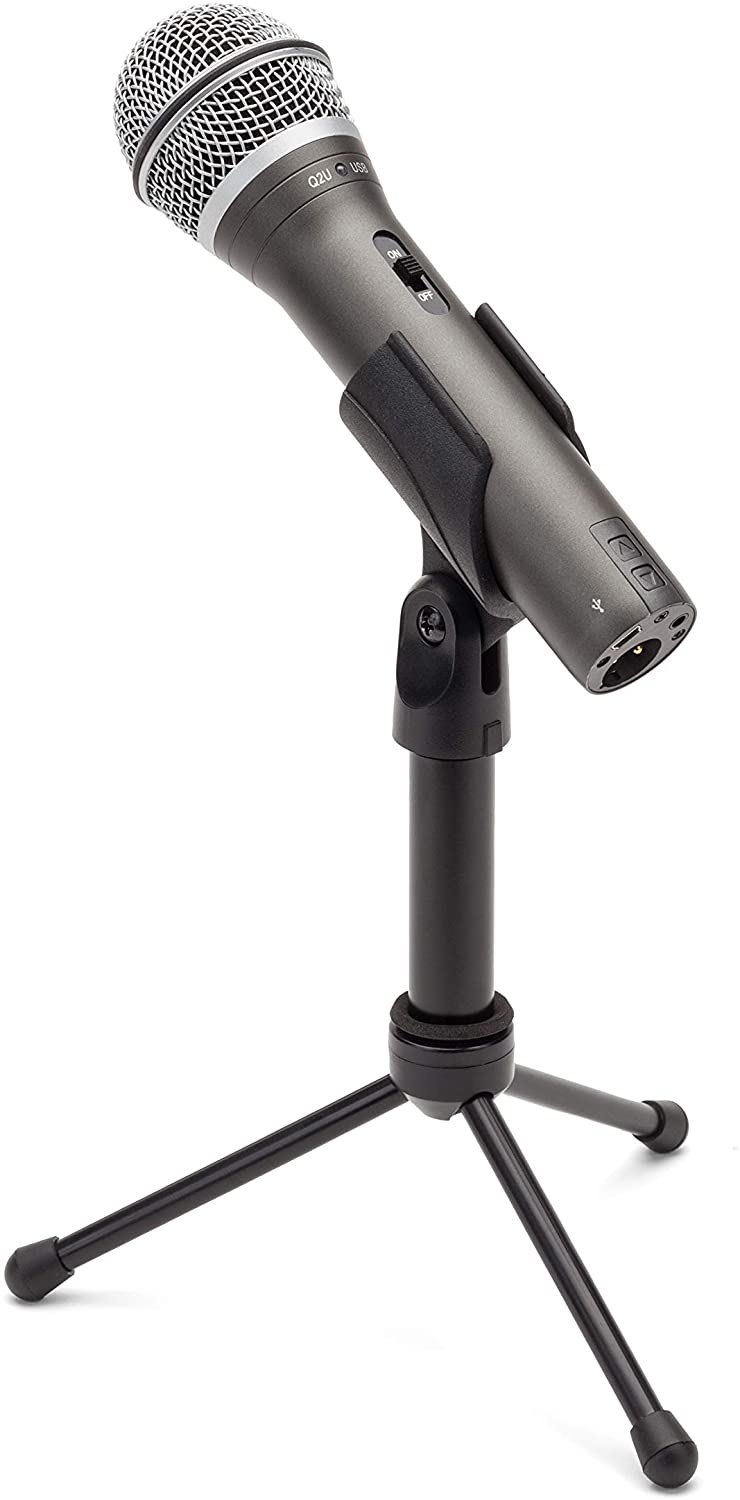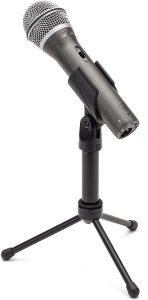 The Samson Q2U is another dynamic microphone that offers excellent speech quality and comes under $100.
It has a frequency response of 50Hz to 20kHz and is perfect for podcasting, speeches, live performances, karaoke, you name it.
It's not a big microphone like the other ones on this list but has the same features. If you want something more portable than the previous ones, this one might be perfect for you.
8. Telefunken M 80

The Telefunken M 80 microphone is ideal for podcasting and similar applications. This microphone has a high maximum sound pressure level of 130dB, which means you can record at very loud volumes without your voice or the sound you're recording being distorted.
You can broadcast your podcast to hundreds, if not thousands of people without the quality ever getting affected. It's one of my personal favorites, and I'm sure it'll be yours too if you give it a try.
Dynamic v/s Condenser Mics for Podcasts
A condenser microphone is an electric microphone that has a diaphragm with a conductive surface.
The microphone converts sound waves into electrical signals because the wires are attached from the membrane to a preamplifier.
In contrast, the dynamic mic does not need any external power to operate and it can be used in different environments without any problem.
The best candidate for most people would be the Dynamic Micro mic because of its increased versatility and portability as well as its unmatched sound quality when compared to other microphones on the market including condenser microphones.
A dynamic microphone tends to lessen the noise from outside sources, but it can be susceptible to handling noise (such as from tapping on a desk).
FAQs
Is a dynamic mic better for podcasting?
The dynamic mic is more commonly used for conferences, lectures, and other public speaking events. A dynamic mic is also a popular choice for voice-over work.
What type of microphone is best for podcasting?
Dynamic microphones are more effective for podcasts because they can pick up a wider range of sounds. They are also more versatile for different sound sources and projects.
Is a dynamic mic good for recording vocals?
No, generally condenser mics are more effective for recording vocals as they enable sensitive high-quality recordings from instruments and vocal signals.
Is Shure SM58 good for podcasting?
No, the SM58 is too focused on vocals and not as compatible for podcasting.
FAQ:
Q: What are the best microphones for podcasting?
A: Versatile entry-level podcasting mic. Designed specifically for podcasting,the AKG Lyra is one of the more visually interesting mics in the list. Perfect for podcasters who record on location. … Solid entry-level mic with unique functionality. … Best all-rounder for podcasting and more. … Superb value podcasting mic for beginners. …
Q: Which microphone should I buy for podcasting?
A: State of the art electromagnetic hum reduction (computer monitors etc) Yoke mounting with captive stand nut for easy mounting and position control Detachable windscreen for extra warm "close talking" vocals
Q: How to choose a microphone for podcasting?
A: Dynamic. Read up on how to read microphone polar patterns. The first kind of microphone is a dynamic microphone. Condenser. The other type of popular microphone type is a condenser. This works slightly differently and uses capacitor plates instead of a coil and magnets. Ribbon microphones. Less common types of microphones include ribbon mics. …
Q: What is the best cheap dynamic microphone?
A: Shure SM48-LC Cardioid Dynamic Vocal Microphone. First on our list is the The Shure SM48-LC Cardioid Dynamic Vocal Microphone. … Samson Go Mic Portable USB Condenser Microphone. Another one of the best cheap microphones we have for you is the Samson Go,which is essential for those on the … Snowball Black iCE USB Microphone. …