Singing on stage like your favourite singer is a dream many of us have had growing up, and many of us still hold today.
Finding a magic microphone that will transform your voice to sound just as amazing as one of your favourites would be something you've always wanted, and is probably the reason why you're reading this in the first place.
However, before we begin, we need to make something very clear. And it might be a little shocking to hear.
Question : Do Microphones have autotune ?
Best Microphones with Autotune don't really exist!
So, you might be thinking to yourself; Why am I still here then?
The answer to that is simple. If you want to alter your voice to make it amazing like your favorite singer, you need to tweak your vocals using pitch-correction and audio-editing software, so you obviously need a good microphone to record your vocals in the first place, which is why you still need a microphone.
Comparison of Microphones with Auto-tune
List of the Best Microphones with Auto-tune in 2021
1 – Neumann TLM – Best Mic for Auto-Tune
2 – Audio Technica AT4050
3 – AKG Pro Audio C214
4 – MXL Mics 770
5 – Hiel Sound PR40
5 Best Microphones with Auto-Tune
With everything cleared up, you now understand why you still need to go through this article to help you decide what microphone is best for you.
There are many other microphones available in the market for voice recording as well, but you should definitely consider one the following 5 microphones if you're having trouble deciding.
1. Neumann TLM 102 MT Condenser Microphone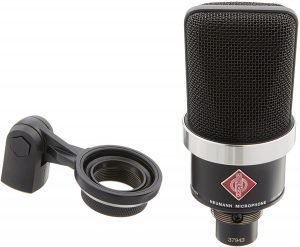 Neumann microphones are considered to be some of the best available in the market in terms of quality.
They are also a little infamous for being the most expensive.
However, the Neumann TLM 102 MT Condenser Microphone is one of its several exceptions, being a fairly mid-priced microphone, particularly coming from such a high-end brand, without compromising too much on quality.
This microphone has a compact body which is styled with a nickel or black finish. It has fast transient response which is excellent for recording both dialogue and speech.
A presence boost above 6 kHz also helps in making recorded vocals stand out.
It has a large diaphragm with cardioid directional characteristics suitable for focused vocal recording and autotuning.
Importantly, the microphone has a very high maximum sound pressure level of 144 dB.
Despite the presence of high SPL rated capsule and a large diaphragm which are usually ideal for recording loud sound sources, this microphone can be effectively used for speech, dialogue, and vocal recording.
One of the biggest cons of this mic is its price tag, which, despite being one of Neumann's more cheaply priced microphones, is still pretty high compared to other alternatives.
2. Audio-Technica AT4050


Audio-Technica is considered by many to be a top microphone brand for vocalists and professionals who are tight on money.
Interestingly enough (and the opposite compared to our Neumann suggestion), the Audio-Technica AT4050 is one of Audio-Technica's more expensive microphones, but it definitely makes up for it in quality, and is still considered to be a top-seller by several retailers despite this.
This microphone has transparent uppers/mids, balanced by rich, low-end qualities that are combined with advanced acoustic engineering, allowing for high quality recording and extensive performance capabilities.
It has a dual diaphragm capsule design which maintains a precise polar pattern definition which spreads across the entire frequency range of the microphone. It has three switchable polar patterns: Cardioid, Figure 8, and Omni.
Also, its circuitry is transformer-less, eliminating low frequency distortion and provides correlation of high-speed transients of superior quality.
Despite being mainly a vocal mic, it gives a very transparent and natural sound, hence making this microphone a very popular choice in studios for practically any recording application.
Similar to the Neumann mic, the Audio-Technica AT4050's biggest con is also its price, with this microphone being more expensive than the Neumann one that was suggested earlier. However, its pros also outweigh the Neumann mic's pros, which justify its higher price.
3. Pyle PRO PDMICR42SL Microphone

Pyle is a brand known for its microphones with the impressive sound quality available at a very inexpensive price.
The Pyle PRO PDMICR42SL Microphone is one of these and is the cheapest microphone on our list.
Despite its low price, the vintage design of the microphone enhances its look, making it stand out from most other microphones you might find in most studios.
It is suitable for almost every vocal recording use, ranging from pod-casting and voice-overs to karaoke.
This microphone, which includes a 16-foot XLR cable, has a built-in pop screen that eliminates popping sounds caused by the impact of fast-moving air, giving you clearer audio.
It also features integrated low noise circuitry, high signal output, a -50 dB sensitivity, and an output impedance of 600 ohms which further ensures clear audio.
Its 30 Hz-15 kHz ultra-wide frequency response captures every tone and produces superior voice reproduction, making it very suitable for recording vocals that can be autotuned.
Its cardioid polar pattern rejects sounds from room reflection while locking in on the main sound source. The mic is also housed with durable ABS plastic that allows it to be used long term, which is an impressive feature considering its small price tag.
Also, the mic stand adapter is compatible with almost any stand available in the market today, with its self-tension swivel mount and internal cartridge shock allowing it to be adjustable from both the front and the back.
The microphone also does not require batteries to work.
Despite its surprising durability, however, the plastic coating on the microphone peels and chips with time, which may affect sound quality.
4. MXL Mics 770 Cardioid Condenser Microphone

Although this microphone isn't of the premium, high-end quality similar to the Audio-Technica AT4050, the MXL Mics 770 Cardioid Condenser Microphone is still highly suitable for vocalists or even recording engineers who require a high-performing microphone at a low budget. Also, despite its low budget, its features and performance are very similar to what you would expect from some of the premium microphones available in the market, and the microphone does not feel cheap or fragile in the slightest.
This microphone has a balanced bass response with high end clarity, making it excellent for recording percussion, pianos, stringed instruments, and, of course, vocals. It is also versatile for streaming and podcasting. Its cardioid polar pattern gets rid of off-axis audio, and its low frequency roll-off further reduces unwanted rumble.
The microphones transformer-less output is also excellent for reducing noise, and its low noise FET preamp ensures the microphone to operate within a wide, dynamic range.
Its biggest con is that it has a small-diaphragm, making it not the most ideal microphone for recording sounds from very loud sources.
5. Heil Sound PR40 Studio Microphone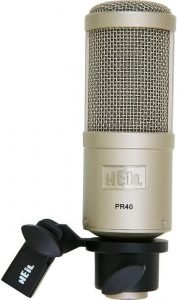 The Heil Sound PR40 Studio Microphone is a compact vocal microphone with a straightforward design that is excellent for recording sounds for autotuning.
This microphone has a large diaphragm of low mass and high SPL handling.
This provides the mic with a wide dynamic range and makes it ideal for loud sound capture.
Despite this, it is also suitable for several other applications such as dialogue recording, voice-overs, and vocals.
The microphone has a tight cardioid pickup pattern which helps it to reject off-axis noise.
It has an efficient NdFeB magnet structure along with an internal filter which minimizes plosives.
It also has a smooth frequency response between 28 Hz to 18 kHz with an articulate and natural midrange and has an impedance of 600 ohms balanced.
Its output level is -59.3 dB, making it another very good choice for autotuning.
Although its design might not be unique, its steel design makes it a good addition to any studio where the recording of vocals and songs are required.
Conclusion
Although most mics serve basically the same purpose: converting sound from analogue form to digital, for it to be stored or to be converted to analogue form again so a recipient can hear what was said, they do have slightly different characteristics that might make some more suitable for you than others.
Therefore, you should definitely weigh mic's pros and cons before purchasing one.
Although autotune Microphones do not exist, they are capable of reproducing the sound at an amazing vocal quality, which can ultimately be edited using software to create autotuned songs.
So, remember, the first step to creating an autotuned song, or any song for that matter, always comes from recording your voice using a microphone.
The better the quality of the microphone, the higher the quality of the vocal recording, and ultimately, the higher the quality of the song, whether it is autotuned or not.